The Meteor 350 adds another chapter to Royal Enfield's legacy of producing cruisers loved by their riders. The Meteor 350 is a supremely refined, easy and accessible cruiser. It is a comfortable motorcycle with excellent ergonomics, and absolutely enjoyable for long-distance riding and highway cruising, while being great within the city as well. The motorcycle is poised, agile at handling, and is equipped with up-rated braking that truly offers an unmatched ride experience.
The Royal Enfield Meteor 350 is available in 3 variants − the Fireball, the Stellar and the Supernova. The Meteor 350 Fireball is available in vibrant red and yellow single colour fuel tanks and matching wheel rim lining, features blacked-out cycle parts and engine and is finished with machined fins. The Stellar, with contemporary red, blue or matt black tanks and matching body components, comes with chrome handlebars and exhaust plus a comfy backrest for the pillion. The top-of-the-line Supernova, finished in dual-tone blue or brown with matching body parts, is detailed with machined wheels, a choice of premium seats and a windscreen.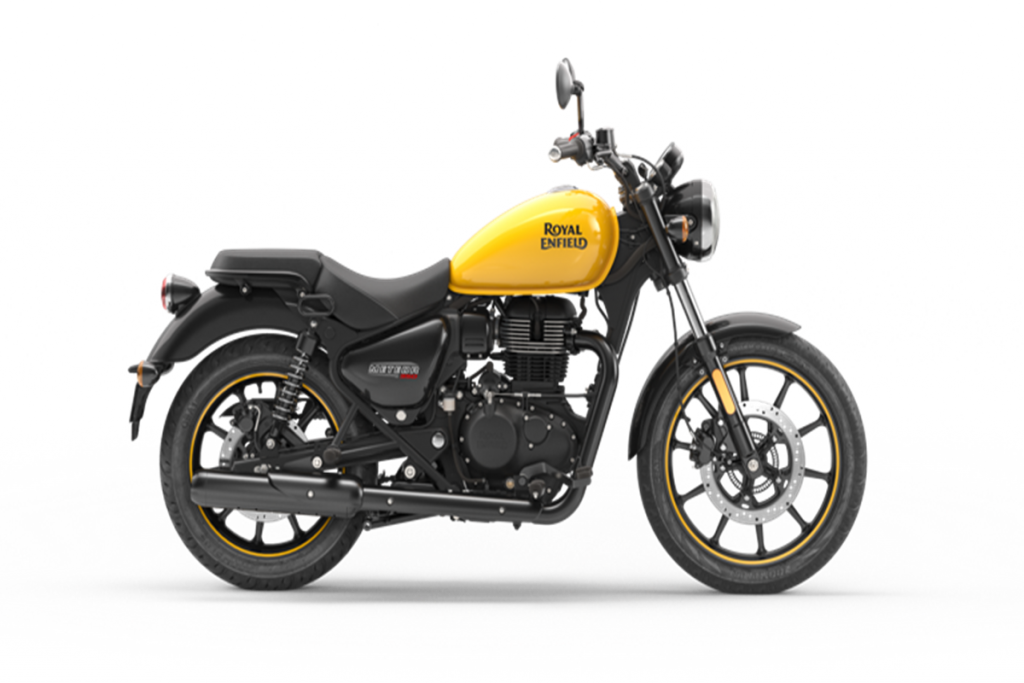 Together with the launch of the Meteor 350 comes the Royal Enfield's Make It Yours – MiY – initiative, an inventive and unique motorcycle personalization tool. New Meteor 350 owners can tap into thousands of possible personalisation combinations when they order their motorcycle via the Royal Enfield App, on the website or at a dealership. In addition to the 7 standard colourways, under 3 editions, MiY allows an additional 8 colourway options for customers.
Making its debut on the Meteor 350 is the new TBT (Turn-By-Turn) navigation pod, known as the Royal Enfield Tripper, a highly focused navigation display device for real time directions, built with Google Maps Platform. The Tripper displays the best route to reach a destination using Google Maps' two-wheeler navigation, a first for any Indian made motorcycle. Paired via the Royal Enfield App to the rider's smartphone, the Tripper is simplicity itself, clearly and efficiently giving the required level of information whilst remaining discreet and unintrusive.
The Meteor 350 is supported by a suite of Genuine Motorcycle Accessories, designed and developed for it, which can be added when ordering the motorcycle and for the first time, customers booking a Meteor 350 will simultaneously be able to opt for Annual Maintenance Contracts (AMC), extended warranty and roadside assistance, all with flexibility built in to suit the requirements of the rider.
Since its launch in November last year, Royal Enfield Meteor 350 has become one of the most popular products from the company's stable. The Meteor 350 is available at a starting price of Rs. 1,78,744 for the Fireball, Rs. 1,84,336 for the Stellar, and at Rs. 1,93,656 for the Supernova editions. (all ex-showroom Maharashtra prices)