A 100 Bed Covid Hospital by Nagpur Municipal Corporation at KT Nagar was inaugurated today by Union Minister Nitin Gadkari, Devendra Fadnavis and Mayor Dayashankar Tiwari in the presence of many other dignitaries.
The Covid-19 situation is very grim and the Covid hospital at KT Nagar will help mitigate the critical bed availability situation in the city to a great extent. The hospital will be operated by NMC.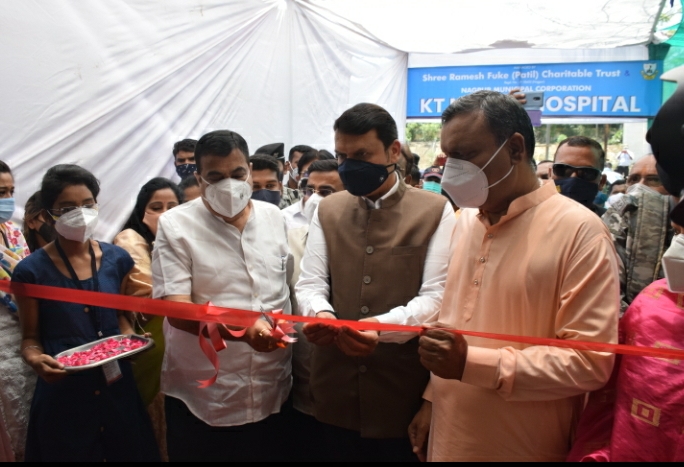 Special care will be taken to provide timely meals, medicines and other facilities at free of cost by the Municipal Corporation. The management of the hospital was arranged by Ramesh Phuke (Patil) Charitable Trust. While MLA Dr. Parinay Phuke and his colleagues will assist in the operations.
Speaking on the occasion, Nitin Gadkari said that many social organizations are rendering their services in Nagpur to provide more facilities to Covid patients. The aim is to provide better health care facilities under the supervision of experienced doctors and team.
MLA Dr. Parinay Phuke also mentioned the need of oxygen cylinder for which Gadkari, promised to follow up and provide as many cylinders as possible.
At this 'Covid Center', those who have covid positive and mild symptoms, whose CT Scan Score is below 8 and Oxygen level is above 92 will be admitted. The decision to admit the patient will be taken only after proper examination on the advice of the doctors at the Covid Center.
Apart from the medical fecility, special care has been taken to keep the patients motivated and hopefull for this counseling is planned in the 'Covid Center' by organization.
Citizens and trusts are urged to call 9021336037 or visit the center to avail the facility of 'Covid Care Center'.