After a long wait people have started realising the importance of ancient Indian health science — Ayurved. One has to understand that this health science exists for the period immemorable and only human species has survived for billions of years with the help of knowledge of medicinal plants and living in consonance with the nature.
Ayurved is a health science which provides information and method for leading a healthy life. With the patronage of retired professor from Government Ayurved Mahavidyalaya Dr Pramod Salve, his nephew Dr Amit Ramane and Dr Dhanashree Amit Ramne, have started Riddhi Siddhi Clinic.
Dr Amit is Ayurvedic practitioner and left Government job to start the clinic. His wife Dr Dhanashree is a Homoeopath. Both the therapies have base in strengthening inbuilt immunity, instead of providing symptomatic treatment for temporary relief.
Besides conducting 'Swarnaprashan' camps regularly, the facility for 'Panchakarma' is being built at the clinic, situated at Motilal Nagar, behind Petrol Pump, Gonhi Sim, Umrer Road, Dighori, Nagpur. Other ailments based are treated on a daily basis. Majority of patients are suffering from joint pain (arthritis) and are benefited from Ayurvedic medicine and treatment. 'Swarnaprashan' is an important 'Sanskar', which helps in healthy development of a child, particularly the brain. Increasing neurological and other health problems in the new born has made 'Swarnaprashan' more important. During the Covid pandemic people have realised importance of having strong immune system. Proper diet is an important part of building this immunity. The Sanskar is related to 'Guru' (teacher) and given on a particular position of Pushya Nakshatra. Ayurved dealts not only with human physical health, but also has indepth knowledge of celestial arrangements and its impact on all living and non-living being. The magnetic fields, radiations have been studied later by modern scientists on new parameters.
Dr Dhanashree  is homoeopathy practitioner. Increasing skin problems among youth, is a common health issue. Homoeopathic medicines have shown very good results in skin disease, problems of kidney functioning, Leucorrhea and PCOD (Polycystic Ovarian Disease). She has been handling these common issues and the results are good.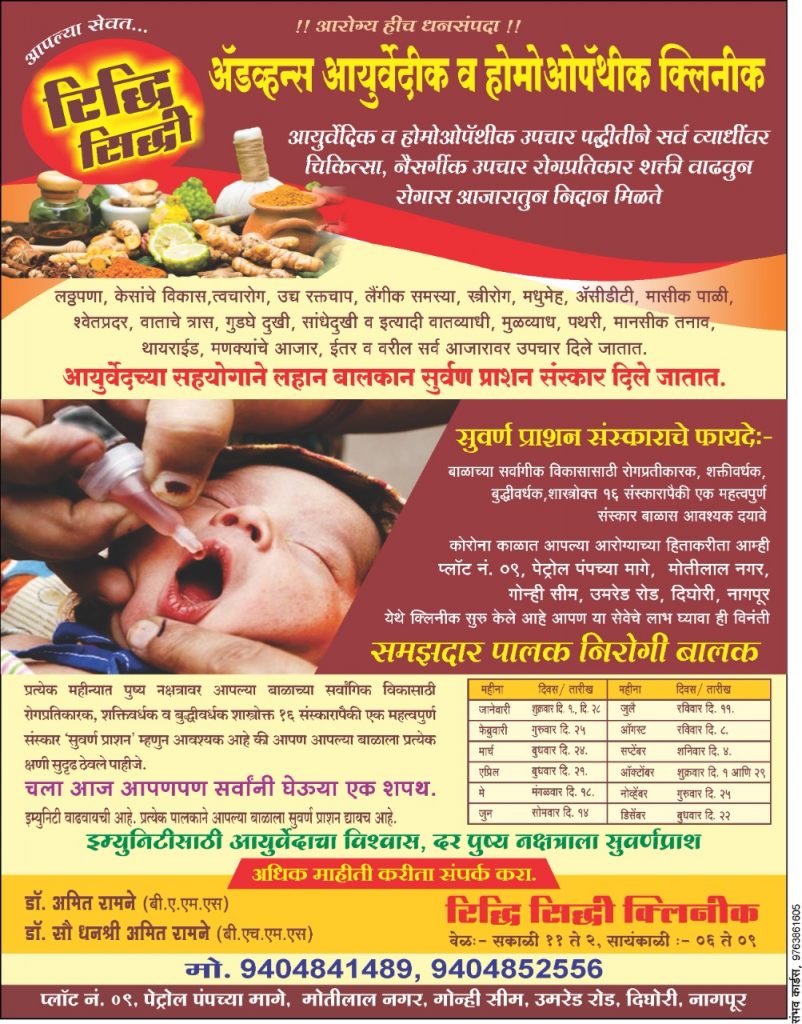 Dr Amit said that immunity booster Ayurvedic preparations are given through the clinic, which besides improving immunity are very effective in post-Covid complications among those infected by the virus.
Riddhi Siddhi Clinc is being run by Dr Amit and Dr Dhanashree with the basic motive to serve the community and also propagating the ancient Indian health science.