'Sarkar Jagao Vanijya Bachao Sangharsh Samiti' (SJVBSS) to awaken the government and administration (Sarkar Jagao) to preserve the entrepreneurship from becoming an endangered species (Vanijya Bachao) demonstrated their resentment to present policy of continued neglecting the most affected sectors organised Sarkar Jagao Protest March from Samvidhan (RBI) square to the office of Nagpur Collector and Nagpur Municipal Commissioner.
At the outset Dipen Agrawal offered floral garland to statue of Mahamanav Bharatratna Dr. Babasaheb Bhimrao Ambedkar ji and sought his blessings. The members present prayed for righteous sense to prevail in government and administration so that they follow the principles enriched in Constitution of India by Babasaheb and do justice with entrepreneurs of Nagpur, the second capital of the state.
The mammoth protest rally maintaining all covid protocols, peacefully moved on foot from RBI Square to the office of Municipal Commissioner, NMC. A small delegation consisting of Convener – Dipen Agrawal, Co-convener – Dilip Kamdar, Secretary – Tejinder Singh Renu, Micky Arora, Sachin Puniyani submitted a memorandum of demand to Radhakrishnan B., Municipal Commissioner, Nagpur city. MLA – Krishna Khopde, MLC – Pravin Datke and Bandu Raut were also present while meeting with Municipal Commissioner and they also pitched their voice in favour of sangharsh samiti.
The protest rally further proceeded to the office of District Collectorate. Vishnu Pachecriwala and Tarun Nirban joined the sangharsh samiti delegation to meet Smt. Vimala R., District Collector Nagpur and submitted SJVBSS's memorandum of demand to restore relaxation in Nagpur Rural as per applicable level under state governments order dated 04/06/2021.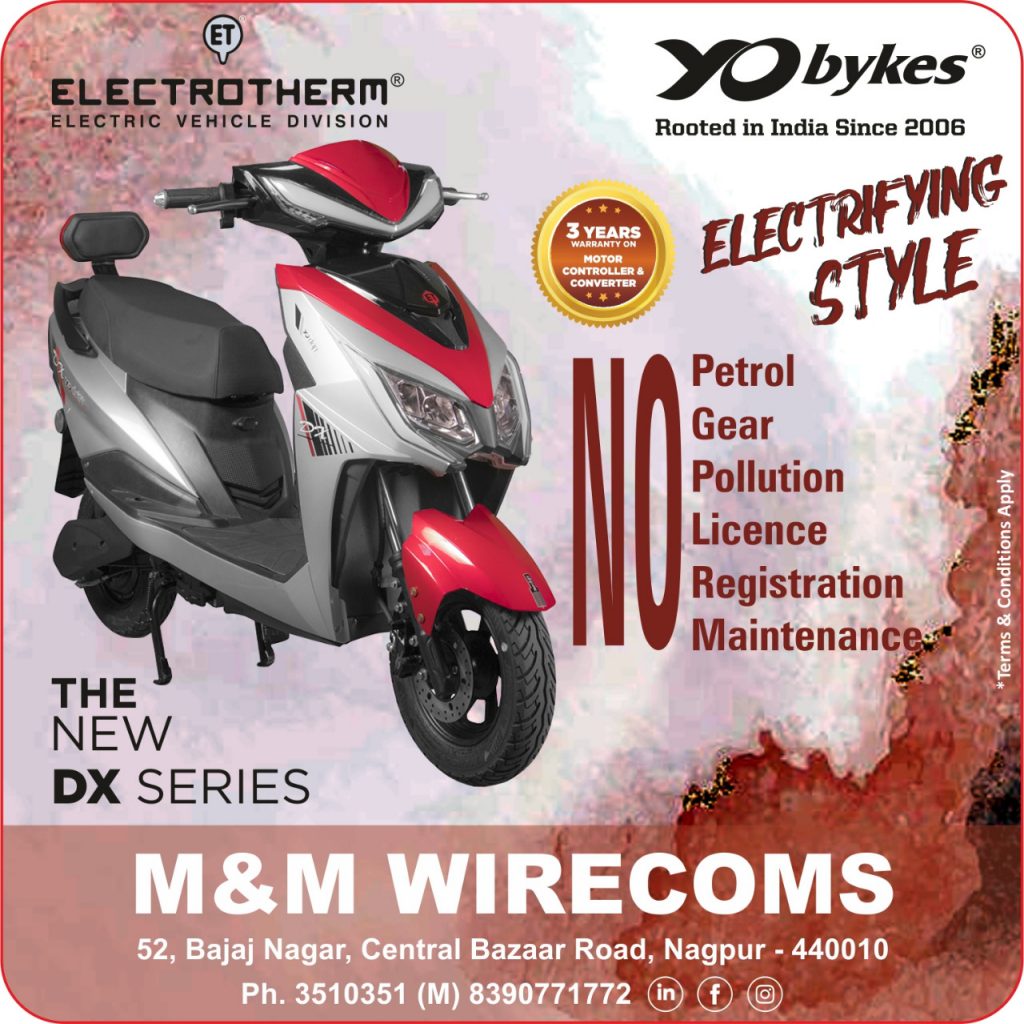 Smt. Vimala R. (Collector) and Rahdhakrishnan B. (Municipal Commissioner) expressed their favourable sentiments with the logical demands of sangharsh samiti and informed that they have forwarded proposal to relax working hours to state government and response from government is awaited.
Dipen Agrawal said that, the delegation upraised both the authorities with the existential crises faced by entrepreneurs engaged in bars, restaurants, food joints, hotels, mangal karyalay, tent house, caterers, coaching classes, malls, resorts. It was also conveyed to Commissioner without munching words that the supressed anguish of traders has busted today. Businessman in large numbers have come on street and participated in protest rally. The delegation requested Commissioner to convey the resentment of traders to government with a word of caution that if relaxation is not given then situation could go out of hand. Agrawal further said that they don't have kuber ka khajana, they are required to earn to maintain their establishment, family and staff; they are required to earn to service their bank loans and pay taxes and duties. If they are not permitted to work during normal times, how could they prepare themselves to sustain the anticipated 3rd wave of virus.
Dilip Kamdar said that "We Are Being Backstabbed" is the general feeling brewing among the business community of the district. It is unjust on part of government/administration to frame policies in violation of well-established principle of 'equality before law' and 'equal protection before law' enriched in Constitution of India.
Tejinder Siengh Renu said that, the home delivery agencies like Swiggy / Zomato are permitted to earn windfall profits by charging hefty service charge to consumers while bars, restaurants and food joints are prohibited form offering dining-in facility during their peak business hours. Similarly, e-commerce is permitted to operate "Regular" while shops are required to shut by 4 pm. The present direction is seen by business community as a deliberate attempt on part of administration to promote e-commerce and to kill the small & marginal entrepreneurs.
Dipen Agrawal & Tejinder Singh Renu jointly appealed to members of most affected sectors to participate in large numbers in tomorrows' car and bike rally. The car and bike rally is scheduled to start at 1.00 pm tomorrow from Hislop College and conclude by garlanding statue of Gandhiji at Variety square. The rally will pass through Law College Square, Coffee House Square, Shankar Nagar Square, Jhansi Rani Square, Panchsheel Square, Mehadia Square, Great Nag Road, Mokshdham Square, Baidyanath Square, Jagnade Square, Gangabai Ghat Square, Telephone Exchange Square, Agrasen Square, Mayo Hospital Square, Ram Jhula, Railway Station Flyover, Manas Square, Morris College T Point before concluding at Variety square.
The Sarkar Jagao Protest March was led from front by coordinator of protest march Amrish Puniyani, office bearers of samiti. Members of Association of Coaching Institutes (ACI), Chamber of Associations of Maharashtra Industry and Trade (CAMIT), Consumer Products Distributers Association (CPDA), Nag Vidarbha Chamber of Vidarbha (NVCC), Nagpur Chamber of Commerce Limited (NCCL), Nagpur Custom House Agents Association (NCHAA), Nagpur Eatery Owners' Association (NEOA), Nagpur Hotel Owners Association (NHOA), Nagpur Mangal Karyalay Lawn Association (NMKLA), Nagpur Photographers & Drone Association (NPDA), Nagpur Residential Hotels Association (NRHA), Nagpur Shipping Lines Agents Association (NSLAA), Nagpur Tent House Association (NTHA), Nagpur Zillah Restaurant Permit-Room Association (NZRPA), Steel & Hardware Chamber of Vidarbha (SHCV), TAAI – Nagpur, Travels Association of Nagpur (TAN), Vidarbha Amusement & Water Parks Association (VAWA), Vidarbha Backstage Association (VBA), Vidarbha Computer & Media Dealer's Welfare Association (VCMDWA), Vidarbha Generator Owners Association (VGOA), Vidarbha LED Association (VLA), Vidarbha Light Owners Association (VLOA), Vidarbha Pen & Stationers Association (VPSA) and Vidarbha Wine Merchants Association (VWMA) participated in large numbers.
Prominently present Rajesh Lakhotia, Adv Sanjay K Agrawal, Vinay Dharmadhikari, Lalit Gandhi, Dinesh Naidu, Prashant Ughemughe, Inderjeet Singh Baweja, Bhawani Shankar Dave, Vijay Talmale, Rajeev Jaiswal, Sanjay Kale, Ashish Deshmukh, Uday Dhomne, Sunil Bhatia, Vishnu Pacheriwala, Trun Nirban, Arjundas Ahuja, Goldy Bindra, Sanju Jhans, Abhinav Thakur, Deepak Deosinghani, Pratap Dewani, Deepak Khurana, Sachin Inkane, Sunil Raut, Darshan Pande, Angad Arora, Mandeep Singh Padam, Amit Harinder Bembi, Prakash Trivedi, Vinod Trivedi, Hemant Trivedi, Tarun Motwani, Vijay Jaiswal, Rana Singh Bhamra, Gogi Bhasin, Sharad Agrawal, Brijesh Khemka, Rajesh Agrawal, Prof. Rajnikant Bondre, Prof. Suraj Iyer, Prof. Panini Telang, Prof. Virag Mitkary and others