With the growing awareness about environmental protection, the demand for Rakhis made from bamboo is high, compared to other decorative ones.
Although the dealers in Rakhi are worried over the low response from the buyers, they are keen on observing this change in the approach of the people.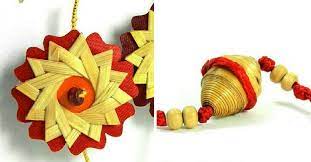 The Rakhi festival will be celebrated on August 22. Relaxation of rules pertaining to Covid19 has resulted in a low, but definite response. The use of social media for celebrations has also affected the physical presence of customers in the market.
Rakhis made of Bamboo, by social workers Sunil Deshpande and Nirupama Deshpande in Melghat are very popular. Unfortunately, Sunil Deshpande passed away during the second wave of Corona. His wife Nirupama is continuing with the work. The Sampoorna Bamboo Kendra is making available Bamboo Rakhis not in India, but also in about 50 countries.

The Rakhi made of Bamboo was also tied to Prime Minister Narendra Modi, by tribal sisters from Lawanda village in Melghat of Amravati district. The festival marks the bond between brother and sister and is known to be celebrated from ancient times. Stories about the festival can be found in Indian mythology.

Talking about the business Sanjay Jain, owner of New Gruhasthi Stores, opposite Nikalas Mandir, Itwari, stated that the number of retailers has come down by about 50 per cent. The demand is more for simple Rakhi of coloured threat, called (Dori Rakhi). The craze for decorative, designer Rakhis have lowered to a great extent. The pandemic has also resulted in rising in the price of Dori Rakhi. The orders place with manufacturers in Mumbai, Ahmedabad and Kolkata were not delivered here, because of transportation problems. The price of Dori Rakhi is from Rs 96 to Rs 1,000 per dozen, depending on the colour and quality of thread used.

Dhananjay Bhide, Ex-President of Sampoorna Bamboo Kendra informed The Live Nagpur that Vinay Sahastrabuddhe, Rajya Sabha Member, helped in taking the tribal women from Melghat to the Prime Minister. Indian Council for Cultural Relations (ICCR) worked on exporting the beautifully made Bamboo Rakhis and other decorative bamboo articles to about 50 countries.

The beautifully designed Bamboo Rakhis are available in a wide range beginning from Rs 25. The main distribution centre in Nagpur is at A2/, SBI Colony, Rajnagar Chhavani.