the festival of lights is fast approaching, and the excitement begins to rise, people are gearing up to celebrate Diwali with fervour and happiness. Marked by earthen diyas, colourful rangolis, twinkling fairy lights, delicious food, and family get-togethers, Diwali, for many Indians is one of the most awaited festivals of the year.
A very important aspect of Diwali is the age-old tradition of exchanging gifts. Though there's nothing sweeter than spending Diwali with your loved ones, thoughtful and carefully selected gifts add more value and meaning to the festivities.
Almonds are known to be the gift of good health, as they are a source of 15 nutrients including vitamin E, dietary fibre, protein, riboflavin, manganese, folate etc. Years of scientific research have also shown that regular almond consumption can provide a variety of benefits across areas of heart health, diabetes, skin health and weight management.
Leading Bollywood actress, Soha Ali Khan, said, "As things in India open up slowly and steadily, I'm looking forward to celebrating a safe Diwali with my family and loved ones. An important part of the festivities is exchanging gifts, and I make it a point to share gifts that promote a healthy lifestyle.
Almonds have been and continue to be a top choice for me as they are versatile and nutritious. They can be easily included in various Indian recipes, eaten as a snack when hungry, or served to guests as a part of the festive spread.
Added to that, almonds are also known to provide immunity supporting nutrients like zinc, folate, vitamin E and iron, which makes them a great gift for anyone and everyone."
According to Ritika Samaddar, the Regional Head-Dietetics, Max Healthcare – Delhi, "Diwali celebrations mean a lot of sweets and fried foods. But a gift of almonds conveys wishes of good health to loved ones and promotes healthy living throughout the festival. Almonds are especially known for supporting heart health.
According to a study, snacking on 42 grams of almonds everyday significantly helped reduce bad LDL cholesterol while reducing central adiposity (belly fat) and waist circumference, all well-established heart disease risk factors 1 . So, this Diwali, be sure to gift almonds, which are known as the gift of good health."
Fitness and Celebrity Instructor, Yasmin Karachiwala added, "Diwali is a wonderful occasion to connect with loved ones and make new memories. But with the back to back celebrations for almost a month due to Navratri, Dussehra, Dugra Puja and now Diwali, many lose track of their sense of routine and health. Be sure to avoid this by dedicating 30 mins – 1 hour to exercise everyday even amidst the preparations. This could be something simple like going for a walk, a home workout or hitting the gym for your workout. Besides this, make sure you share nutritious gifts like almonds with friends and family.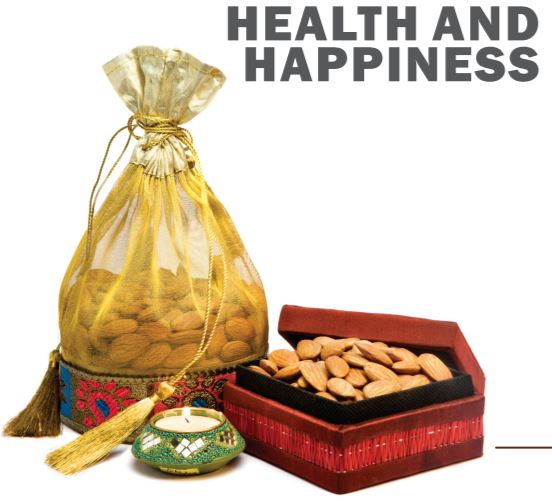 Almonds are a source of protein and fibre which makes them a healthy and satiating snack, that can come in handy in between meals, and might help curtail overindulgence.
Integrative Nutritionist and  Health  Coach, Neha Ranglani, mentioned, "Diwali celebrations mean a lot of preparation, planning and get togethers, all of which require us to keep our energy levels at their optimal best. My suggestion is – keep a handful of almonds nearby to snack on when hunger strikes, to keep yourself energized through the day to take on the festivities."
Sheela Krishnaswamy, Nutrition and Wellness Consultant, shared, "Traditionally, during festivals and special occasions, almonds have been perceived as an auspicious gift. Gifting almonds is like gifting good health.
It embodies the care and concern of the gift giver. Gifts like almonds, will not only serve as a nutritious and delicious snack, but the gesture itself is representative of your interest in receivers and their families' overall health."
So, combine the best of tradition with good health and include almonds in your Diwali traditions and gifting this year!