JCI Nagpur conducted its enthralling 59th installation ceremony at Hotel Centre point and HGF Swaraj Tembhe was installed as the President along with the other governing board members. Sadiq Chimthanawala, Past President was the keynote speaker, Akash Sundrani was the installing officer, JFP Ashish Agarwal Zone President JCI Zone IX was guest of honour, and JFM Rajesh Saraf, National Vice-president of JCI India was the chief guest for the ceremony.
The event was flagged off by the customary pageantry, welcome of dignitaries, and invocation of JCI creed. The performances of the officers of the year 2021 was recognised by way of awarding trophies to them. Tarique Raza, the outgoing President, presented the report for the year 2021. He administered oath to the incoming President HGF Swaraj Tembhe who further administered oath to the governing board members of 2022. Around 70 new members were also given an oath by the installing officer.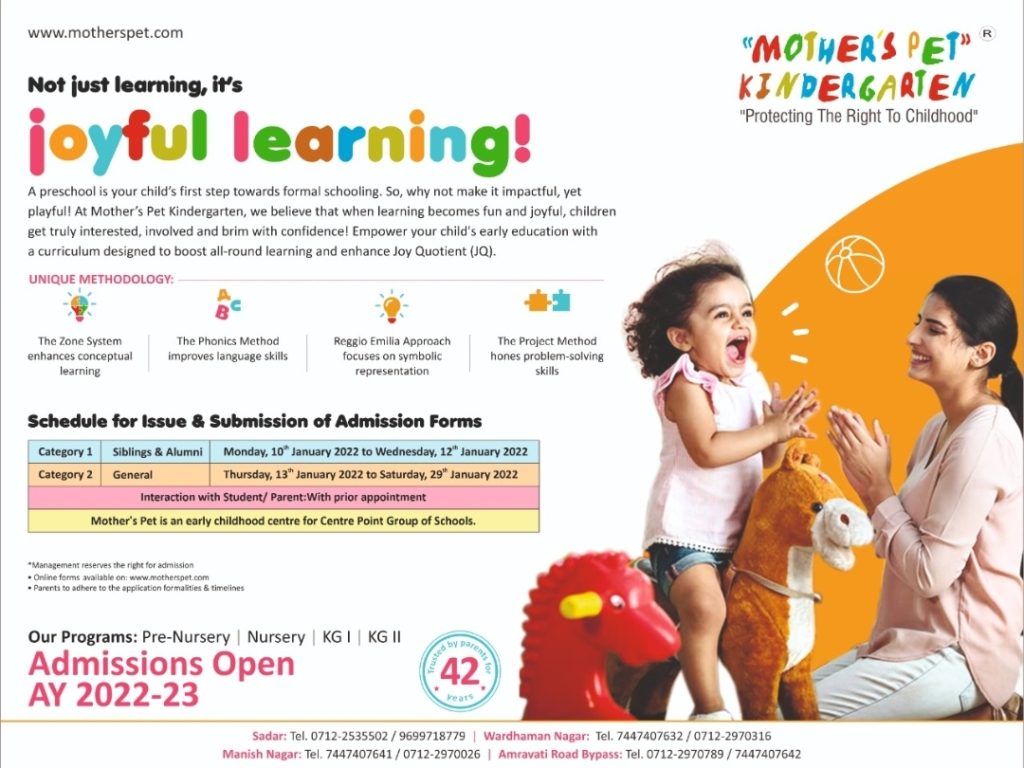 The newly-elected Governing Board members include — President HGF Swaraj Tembhe, IPP – Tarique Raza, Secretary – Priyanka Shrinivas, TreasurerAnkush Shukla, VP Management Opportunity – Shivkumar Gour, VP Individual Opportunity – Himanshu Pazare,VP Community Opportunity – Richa Gupta, VP Business Opportunity – Neelmani Gupta, VP Growth and Development – Ritesh Bhagat, VP International- Anjali Raut, Director Management Opportunity– Chetan Raut, Director Individual Opportunity- Ruturaj Ganvir, Director Business Opportunity- Tushar Katkar, Director Community OpportunityPriya Chandurkar, Director International – Nadiya Hussain Junior JC Chairperson- Mubarka Mehtawala, Junior Jc Secretary – Mohammad Hussain, Junior JC Treasurer- Hussain Lodger, Sports Co-ordinator- Mustafa Zakir, Need Blood Call JCI- Pratherna Dwiwedi, Social Media Co-ordinator Tejaswini Bhandarkar.
Tarique Raza gave mementos as mark of respect to the past presidents who supported him throughout his tenure. HGF Swaraj Tembhe delivered his acceptance speech wherein he spoke about the motto of this year of JCI Nagpur'Inspiring Generation'. He gave appreciation awards to the upcoming governing board members who worked for the success of the event.
Sadiq Chimthanawala addressed the gathering and told the members that how this individual development organisation turns a shy individual to an effective public speaker and that he is a standing example for it. JFP Ashish Agarwal spoke about the powerful projects which would be conducted under his regime as Zone President, Zone IX and gave away certificates to the participants of a speechcraft-a prestigious training program.
JFM Rajesh Saraf appreciated the efforts of the team 2022 and interacted with the new members. He also wished the entire team for a successful tenure ahead. Junior JC members Tasneem and Rashida compèred the event. It was also witnessed by galaxy of past presidents Javed Rana, Vathsala Shrinivas, Dhaneshwar Kale, Manoj Sable, Brijmohan Tiwari, Pranay Barapatre, Vijay Pal Dulharia, Dr Sanjay Deotale, Vijay Harankhede, Altaf Sheikh.