The Indian embassy in Ukraine in a latest advisory has asked all the Indian nationals residing in Kyiv to leave the city immediately
The embassy through a tweet said "All Indian nationals including students are advised to leave Kyiv urgently today. Preferably by available trains or through any other means available."
On Monday, the Indian Embassy released the second advisory to all Indian nationals, including students, in Ukraine. The advisory stated that weekend curfew has been lifted in Kyiv. All students were advised to make their way to the railway station for onward journeys to the western parts.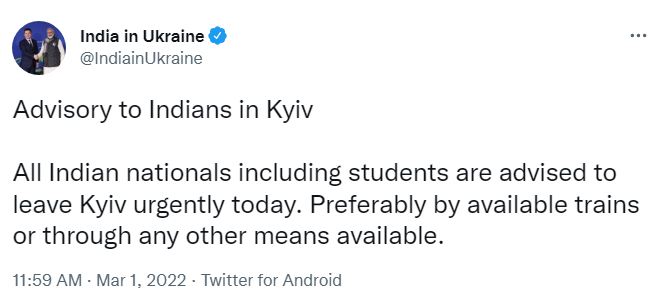 The Indian Embassy said that Ukraine Railways is putting special trains for evacuations.
Also, for the students stranded on the left side of Dnipro, there are metros and buses functioning which can be used to move to the train station for onward movement, the Indian Embassy said.
The embassy informed that "400 students housed near Embassy since 24 Feb successfully left Kyiv by train through Mission's efforts."
"Ensured movement of more than 1000 Indian students from Kyiv towards Western Ukraine, today" the embassy added on Monday.
The latest advisory appears to indicate that Russian forces could be close to launching a full scale attack on Kyiv. Last night the second largest Ukrainian city of Kharkiv had been pummelled with strikes.
More than 70 Ukrainian servicemen were killed when Russian troops shelled a military base in the town of Okhtyrka in Ukraine's northeastern Sumy region on Monday, regional governor Dmytro Zhyvytskyy said on Facebook.
Meanwhile, external affairs minister S. Jaishankar has announced on Twitter that the eighth Operation Ganga flight leaves from Budapest for New Delhi with 216 Indian nationals on Monday. While, ninth flight carrying Indian nationals stranded in Ukraine has set off from Bucharest to New Delhi with 218 Indian Nationals.