Looking at the increasing population, fast development of city and multi-storeyed buildings, it is necessary to have a machinery for safety of buildings. The 32 mtr hydraulic platform, a Finland made modern Brato Skylift Machine, that reached in the fleet of Fire Brigade vehicles would play a vital role in this regard, said Radhakrishnan B, Municipal Commissioner, on Wednesday.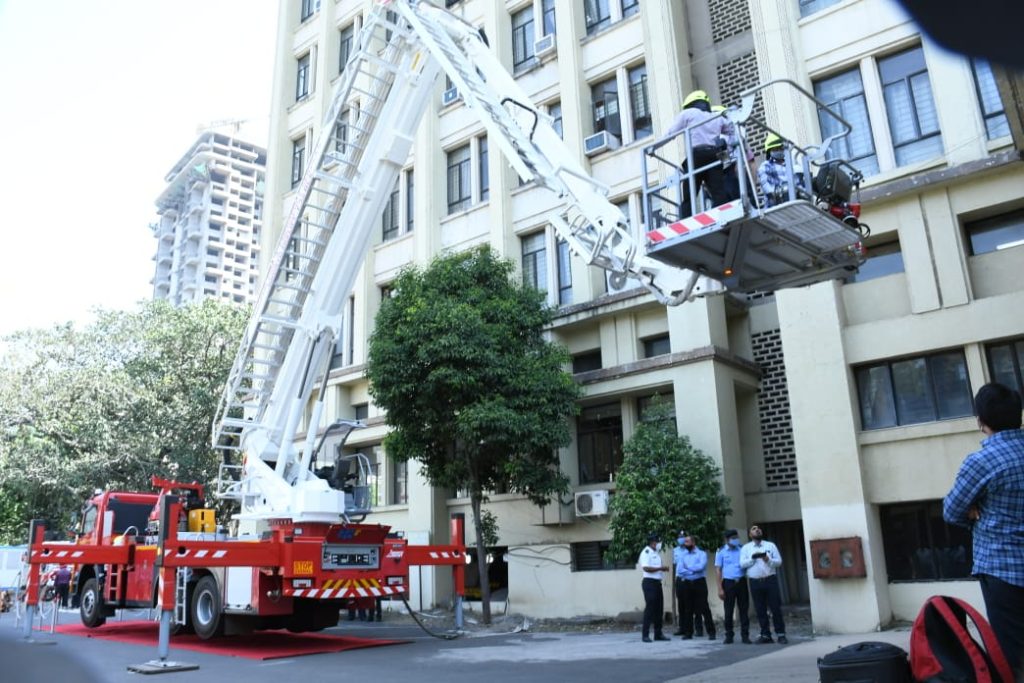 He was speaking after dedicating the hydraulic platform to public at a function held in the new administrative building of Nagpur Municipal Corporation in Civil Lines. Ram Joshi, Additional Municipal Commissioner, Mahesh Dhamecha, Asstt Commissioner, Rajendra Uchake, Chief Fire Officer, Tushar Barahate, Station Officer, Rajesh gurnule, Mechanical Engineer, Kunal Shah, Representative of Brijvasi Fire Safety System Company, and others were present on the occasion.
Radhakrishnan, Dhamecha and Uchake inspected the machine and understood functioning system. Radhakrishnan even stood up in the cage and reached to seventh floor of the building to verify technical information.
The Municipal Commissioner further said that the permission granted earlier for 15 metre high buildings but now it has raised to 24 metres in view of metro and other developmental activities in the city. When the city is progressing the administration has to make necessary safety arrangements for the citizens. The machine having capacity of 32 metres is an important step towards safety as the people trapped on upper floors of a building catching fire can be rescued effectively. This machine will not only help in extinguish the fire but also save lives of trapped people, he pointed out.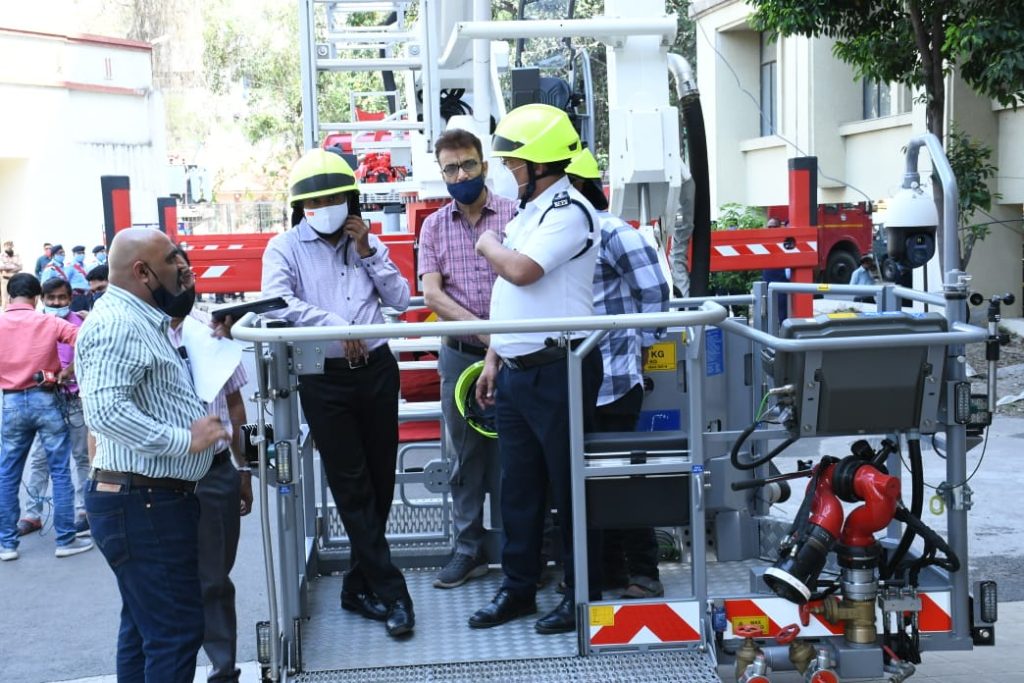 Uchake gave technical information about this hydraulic platform. The Fire Brigade gives permission to construction of high rise buildings and hence it must have precautionary measures. At present, the Fire Brigade has 42 metre high turn table ladder but this machine has been purchased for safety of buildings in narrow roads/lanes, The original cost of the machine is Rs 8.10 crore with a warranty of three years. This 32 metre high modern machine is fitted with a camera at the cage that can get information about the persons trapped in the building. Besides this, five persons can be rescued at a time, he said adding that the machine having automatic sensor can operate self in emergency situation, Uchake mentioned.