NMC celebrates World Earth Day
Nagpur Municipal Corporation, Nagpur Smart and Sustainable City Development Corporation Limited & Green Vigil Foundation jointly commemorated World Earth Day at NMC, HO, Civil Lines on Friday. Municipal Commissioner and Administrator Radhakrishnan B, Chief Executive Officer of Nagpur Smart City Chinmay Gotmare, Additional Municipal Commissioner Deepak Kumar Meena and Ram Joshi were present prominently. On this occasion, an oath was taken to save mother earth.
World Earth Day is an annual event held on April 22, 1970 to demonstrate support for environmental protection. It now includes a wide range of events coordinated globally by Earth Day Network including 1 billion people in more than 193 countries.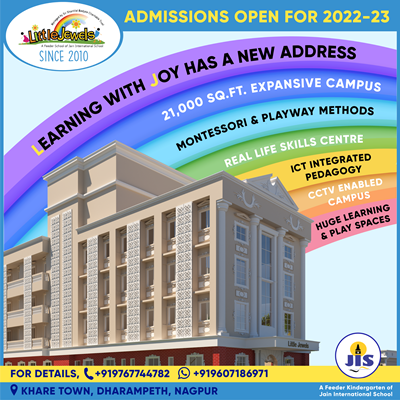 Radhakrishnan B spoke on the urgent need for public participation to combat the climate crisis by adopting eco-friendly lifestyles. He said, every citizen can contribute in reducing carbon footprint by using non-motorized transport in the city. NMC is taking lot of efforts to reduce carbon footprint by introducing electric vehicles, CNG buses. We are also planning for walkability roads, and other small and smart interventions to reduce pollution, he pointed out.
Gotmare stressed that the human race is just a small part of the ecosystem, earth can survive without us but we can't survive without earth. Therefore it is a need of the hour to adopt eco-friendly lifestyle.
During the program, Surbhi Jaiswal, Team Leader, Green Vigil Foundation & Co-ordinator Earth Day Network, India, spoke on this year's theme "Invest in our planet" and various activities of Earth Day Network. She highlighted ways and means of green living practices. Manish Soni, PRO of NMC and Nagpur Smart City conducted the programme and proposed vote of thanks.
On this occasion Nirbhay Jain, Deputy Commissioner, Pradeep Khawle, Chief Engineer, Manoj Talewar, Superintending Engineer, Ashok Mankar, Executive Engineer, Sonali Chavan, Executive Engineer, Shrikant Deshpande, Traffic Engineer, Dr Sheel Ghule, GM, e-Governance, Dr Pranita Umredkar, GM,Environment, Kaustav Chatterjee, Founder Green Vigil Foundation, Brand Ambassador RJ Rajan of MyFM, and others were present.
In the evening NMC and Green Vigil Foundation conducted a citizen outreach campaign at Maharajbagh on this year's theme of Earth Day – Invest in our planet.