The A.G. Nagpur stormed into the semifinals defeating A.G. Bhopal by 10 wickets, to setup a semifinal clash with A.G. Raipur who had hard fought win over A.G. Mumbai by 13 runs, while defending champions A.G. Jaipur got the better off of A.G. Gwalior defeating them by 57 runs to setup their semifinal clash with A.G. Rajkot who thrashed their counterpart A.G. Ahmedabad by 9 Wickets, in the ongoing Indian Audit & Accounts Department (IA&AD) West Zone Cricket Tournament, 2022 which is being conducted under the aegis of Accountant General Recreation Club (AGRC) of the Office of The Accountant General (A& E) II, Maharashtra, The finals is slated for 6th May 2022 at VCA Stadium, Civil Lines, Nagpur.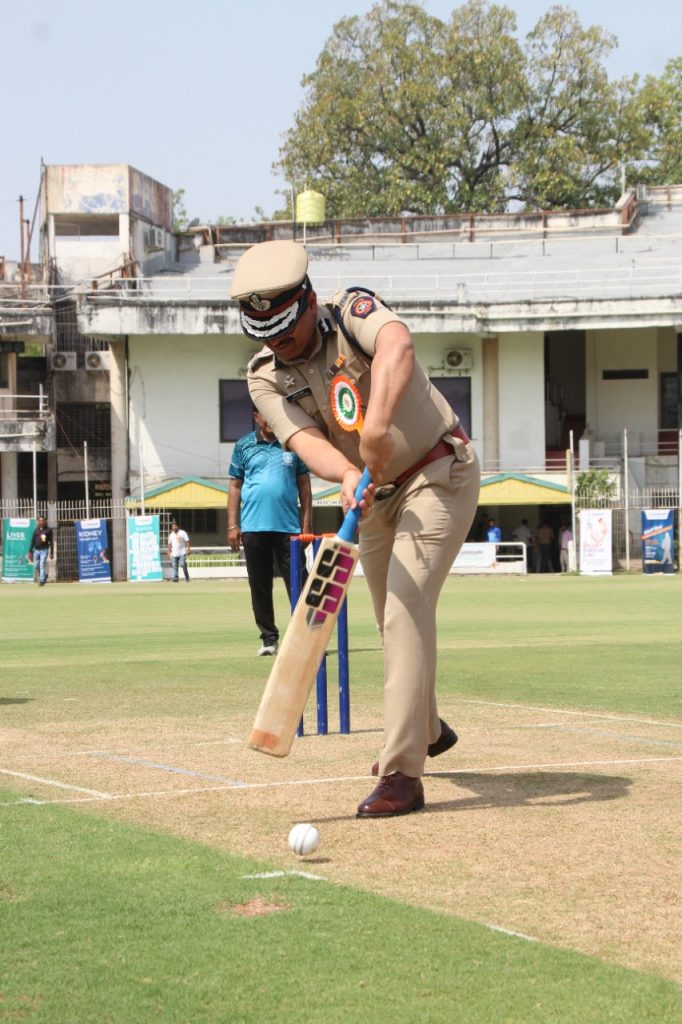 IA&AD West Zone Cricket tournament was inaugurated by Amitesh Kumar, Commissioner of Police, Nagpur.
In his inaugural speech, Amitesh Kumar told about the fond memories of VCA, when he was in Nagpur previous to this posting and appreciated the entire staff for the wonderful arrangements for all the players coming from various parts of the country and wished them best of Luck for their matches.
Hemant Gandhi, Hon. Secretary, Vidarbha Cricket Association, Nagpur, was the Guests of Honour. In his speech, he requested the dignitaries to recruit female cricket players in their offices as the VCA has a ground entirely for ladies, which was one of its kind in entire India. R. Thiruppathi Venkataswamy, Accountant General (Audit), Maharashtra, Nagpur, congratulated all the teams. Praveer Kumar, Patron and Accountant General (A&E)-II, Maharashtra, Nagpur, welcomed all the teams and to enjoy their matches, and also the stay and match arrangements.
All the dignitaries shook hand with all the players of team and the Chief Guest, Amitesh Kumar, released the balloons and played a shot to declare the tournament open. Dinesh Mate, Sr. Dy. Accountant General welcomed everyone and introduced the guests.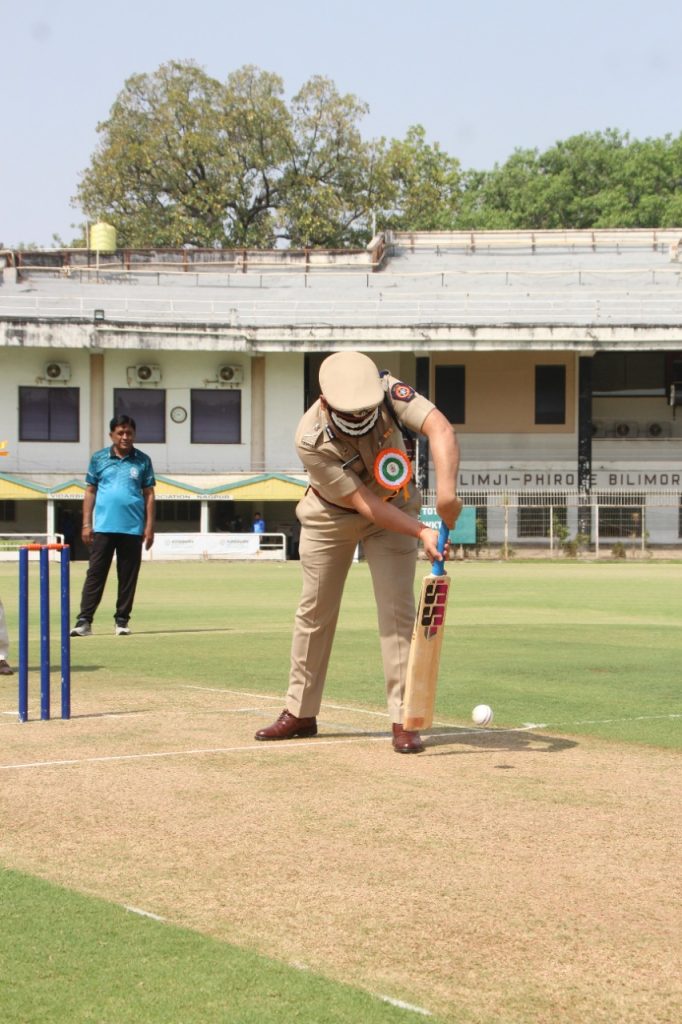 In the Inaugural match, between A.G. Nagpur and A.G. Bhopal played at VCA Stadium, Civil Lines, a quickfire 39 off 15 balls (6×4, 2×6) by Sanjay Ramaswamy, saw the hosts sail into semifinals in just 3 overs. Electing to bat first,  A.G  Bhopal were bundled out in just 13.2 overs with the score 43/10 thanks to some fine bowling spells by Aditya Sarwate (2-1-1-3), Avinash Kumar (2-1-4-3) and Kant Wagh (2-0-10-2). Sumit Sharma (11) and Alesh Nigam (16) could only get into double figures. A.G. Nagpur mustered those runs with 17 overs to spare. Aditya Sarwate remained not out on 5. Avinash Kumar was named man of the Match.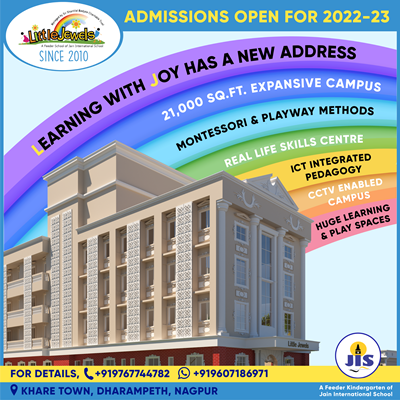 In another quarter final match played at Dr. Ambedkar College Ground, Deekshabhoomi, a unbeaten brilliant ton, 113* Runs off 58 balls (14×4, 5×6) by Arpit Vasavada saw A.G. Rajkot thrash their counterpart A.G. Ahmedabad by 9 Wkts. A.G. Ahmedabad after being put into bat, set a decent total 146/7 in their allotted 20 overs. Pranjal Sutariya top scored with 83 ( 8×4, 4×6) for A.G. Ahmedabad, while Kuldeep Sharma took 3 wickets(4-0-26-3) for A.G. Rajkot. Chasing a score of 146/7 (20), A.G. Rajkot mustered the runs in 15th over loosing a single wicket in the process. Arpit Vasavada (113*), Rahul Dave (20) & Sahil Karathiya (12) were A.G. Rajkot's main run getters. Arpit Vasavada was declared Man of the Match.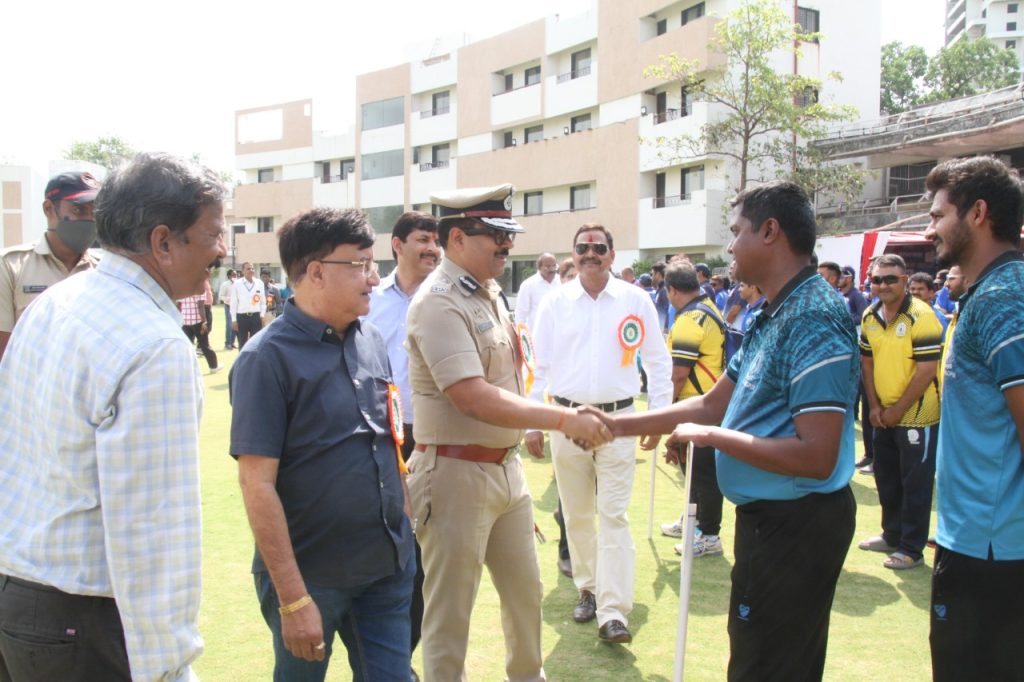 In the other Quarter Final Match, played at VCA Ground (Kalmana), between defending Champions, A.G. Jaipur and A.G. Gwalior, A.G. Jaipur after electing to bat first after winning the toss, put up a mammoth 219/4 in their allotted 20 overs, thanks to a brilliant unbeaten 55 ball century 100* (3×4, 10×6) by Anket Lamba and 54(28) by Arjit Gupta. Rahul Bathan took 2 wickets while Amit Sharma and Rameez Khan took a wicket apiece for A.G. Gwalior. Chasing the score, wickets kept falling at regular intervals and A.G. Gwalior were bundled out for 162/10 in 18.3 overs. S. Joy (39), Shubham Singh (35) and Seddhart Dadu (29) were their main run getters, Arijit Gupta took 4 wickets while Shubham Sharma 2 wkts for A.G. Jaipur.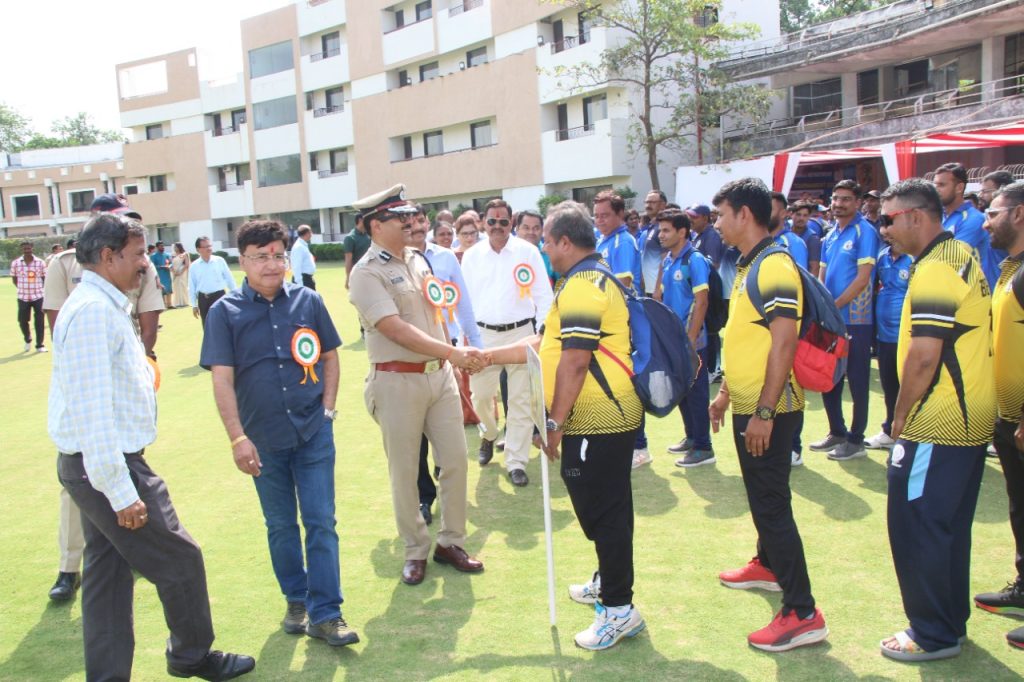 In the last quarter final, played at Divisional Sports Association, Central Railway, Ajni, A.G. Raipur being put into bat by A.G. Mumbai, put up a decent 165/3 in their allotted 20 overs, thanks to a unbeaten half century by Avinash Dhaliwal (65*), 49 Runs by  Rishab Tiwari, 27 runs by Ashutosh Jadhav and 20 runs by Ian Coster.
Imtiaz Ahmed, Bhavesh Patel, Madhusudan Acharya took a wicket apiece for A.G. Mumbai.  Bravesh Shetty played a loan hand scoring 85(43) against regular fall of wickets at the other end and A.G. Mumbai were bundled out in 19.2 overs scoring 152/10, thus loosing the match by 13 runs. Pankaj Rao, Jalaj Saxena, Ashutosh Jadhav and Avinah Dhaliwal took two wickets each.
Smt. Pihoo Bhattacharjee and Smt. Manju Naidu compered the program, while Smt. Vandana Taide proposed Vote of Thanks.
H.T. Fulpadia, Sr. DAG (Admn) & Welfare Officer, Ms. Pallavi Holkar, Sr. Dy. Accountant General (AMG-II), Dinesh Mate, Sr. Dy. Accountant General (Pension, Fund & Accounts), Akshay Khandare, Dy. Accountant General (Admn), Sunita. Naresh Kumar Manne, Dy. Accountant General (AMG-IV), Sunita Gunashekhar, Dy. Directtr, Finance & Communication, DA P&T, Dhanraj Chavhan, Welfare Officer and large number of officers and staff members were present on the occasion.
May 5.05.22:
Semifinals
i) A.G. JAIPUR V/s A.G RAJKOT (V.C.A Stadium, Civil Lines, Nagpur) (8.00 am)
ii) A.G. NAGPUR V/s A.G RAIPUR (V.C.A Ground, Kalamna, Nagpur) (8.00 am)