Worlds #1 selling Cough and Cold brand* Vicks, today, announced the launch of Vicks Tulsi Cough Drops in India. By adding Tulsi flavor to its range of products, the brand reaffirms its aim of making traditional remedies, passed down by generations, convenient and accessible to all.
The Tulsi plant is traditionally known for being a highly beneficial herb in treating cough and alleviating sore throat.
Independent studies commissioned by Vicks Cough Drops also revealed that Indians rated Tulsi as one of the most preferred flavors for sore throat relief.
Vicks Cough Drops believes in harnessing the power of traditional and trusted ingredients in its portfolio and aims to stay true to the needs of their consumers. The market leader in the cough suppressants category, Vicks Cough Drops' portfolio already boasts of flavors like honey, menthol, and ginger. The new flavor 'Tulsi' strengthens Vicks Cough Drops' pocket-sized portfolio which relieves khich-khich in the throat.
Commenting on the launch, Sahil Sethi, Senior Director, and Category Head, Personal Healthcare, Procter & Gamble India, added, "Vicks Cough Drops has been relieving khich-khich for generations of Indians using natural and traditional ingredient-based flavors that are known to bring sore throat relief to the consumers. Tulsi is a trusted ingredient in Indian households for its medicinal properties. Therefore, it was only natural for us to introduce Tulsi as a new addition to the Vicks Cough Drops range. Through this, we are staying true to our ethos of providing our consumers with an effective solution for their sore throat. We are confident that Vicks Tulsi Cough Drops will be the next trusted home remedy for consumers to get quick relief from sore throat and enable them to speak khich-khich free with confidence."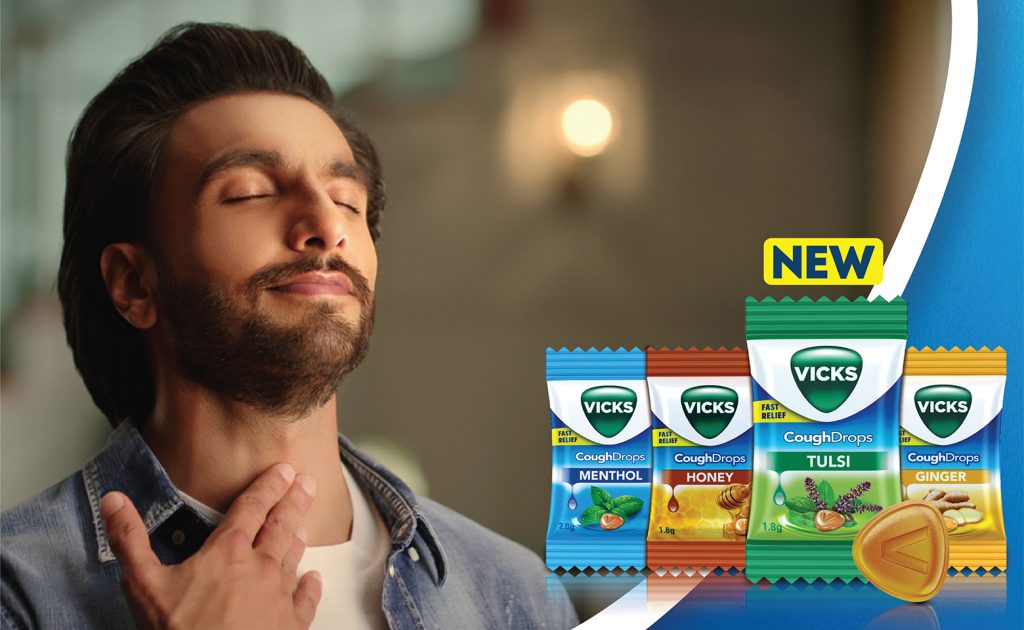 Vicks Cough Drops stops dry cough, lubricates, and soothes irritated throat. It works as a cough suppressant which helps reduce the frequency of coughing and gives people the confidence to face the world in their best form. For more than 50 years, it has remained everyone's top tasty choice for relieving minor throat irritations.
About Vicks Cough Drops® – Vicks Cough Drops work as a cough suppressant and/or oral anesthetic – it stops the dry cough before it even starts and gives you the confidence to face the world in your best form. For more than 50 years, it has remained everyone's top tasty choice for relieving minor throat irritations. Vicks Cough Drops are available at your nearest store in 3 flavors: Menthol, Ginger, and Honey.
About Vicks® – Vicks offers a portfolio of trusted products that are used by millions of people in more than 70 countries around the world. The Vicks family includes – Vicks VapoRubâ"¢ Ointment, NyQuilâ"¢, DayQuilâ"¢ and Vicks® VapoDropsâ"¢. As one of the most globally recognized brands, Vicks is proud to have helped relieve cough, cold, and flu symptoms for generations. Headquartered in Cincinnati, OH, Vicks is owned and distributed by Procter & Gamble.