Vidarbha Industries Association Lady Entrepreneurs' Wing & Barrister Sheshrao Wankhede Trust [In memory of Late Smt Kusumtai Wankhede] organised the "Udyojika Swavalamban Mela" in association with SIDBI recently from 30th Sept to 3rd Oct 2022 at Kusumtai Wankhede Hall, Nagpur.
Udyojika Swavalamban Mela was inaugurated at the hands of Chief Guest, Vijayalakshmi Bidari, Divisional Commissioner, Nagpur Division and Guest of Honours were Rehmat Hussain Parkar, Dy GM RBI Nagpur and Anjani Kumar Srivastava, GM & Regional Incharge, Pune Region, SIDBI.
On the concluding day prize distribution function Chief Guest was Aswathi Dorje, Joint Commissioner of Police, Nagpur, she appreciated the efforts of VIA LEW for offering platform to lady entrepreneurs to market their products.
She overwhelmed to see the involvement and participation of women entrepreneurs under one umbrella in Udyojika Exhibition.
Aswathi Dorje gave trophies to Best Entrepreneur of the year 2022 to Nisha Wasnik, Director of Nisha Agarbatti; Best Salesmanship Winner – Rachana Agrawal of Crafted Love; Best Salesmanship Runner up – Manisha Naitam of Gondi Painting; Best Presentation Winner – Roshmi Yende of Shilp Crafted with Love; Best Presentation Runner up – Saloni Mishra of Dreamer Fashion and Best Food stall given to Tuli College of Hotel Management.
On this occasion, Santosh Rao More, AGM of SIDBI Nagpur Branch also felicitated winners and awarded cash prize of Rs.20,000 to each participant viz. Best Creative Product Award given to Crafted Love, Best Artistic Product Award given to Gondi Painting, Best Presentation Award given to Fehmi's Art, Eco-friendly Product given to Uikey Handicraft & Organic Product, Best Designer Product Award given to Eknath Handlooms and Best Forest Product given to Venu Shilpi Audyogik Sahakar Sanstha.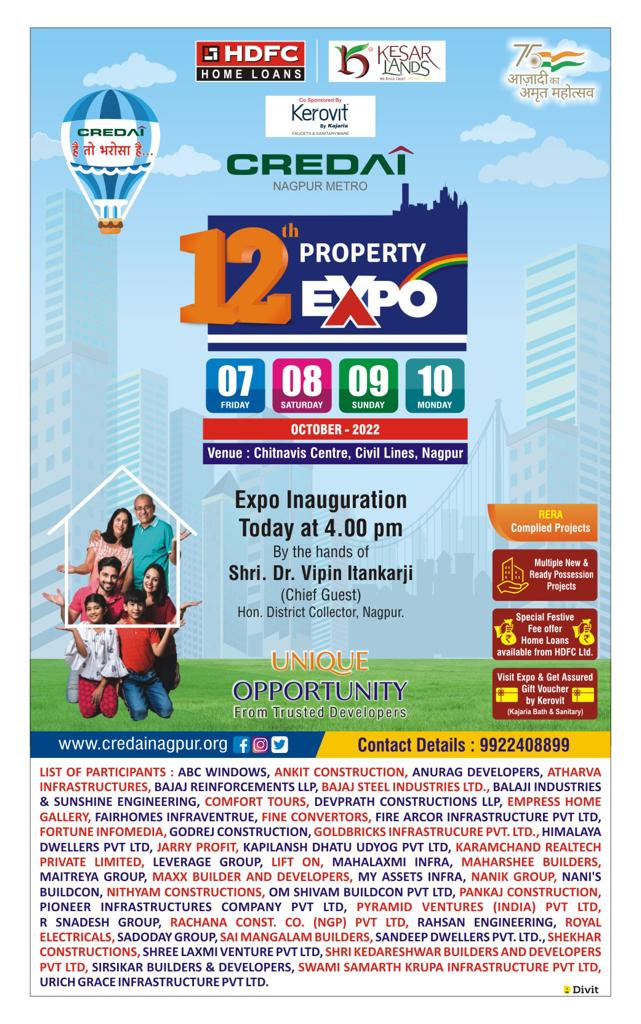 Aparna Goverdhan also facilitated stallholders of Udyojika and gave Awards to the winners in memory of Late Smt. Sarlabai Thatte, who was the first lady industrialist who started her entrepreneurial journey in 1930 by manufacturing gold thread, photo frames and socks which were exported to London.
Poonam Lala, Chairperson of VIALEW in her speech said being the silver jubilee year, association of SIDBI made our event a grand way.
She expressed thanks to the entire team of VIALEW for their enthusiastic support and successfully executed the work assigned to them, nicely conducted competitions on different themes.
On this occasion, the entire amount of stallholders were returned to them and during four days the exhibition got tremendous response from visitors and footfall around more than 50000.
The program was conducted by Vice Chairperson of LEW – Shikha Khare, Neelam Bowade and Reeta Lanjewar, Rashmi Kulkarni, Secretary – VIA LEW proposed a formal vote of thanks.
Prominently present were Founder Chairperson – Sarala Kamdar; IPP Manisha Bawankar, Advisory Committee – Madhubala Singh; Past Chairpersons – Chitra Parate, Y Ramani, Anjali Gupta, Dr Anita Rao & Shachi Mallick; Vice Chairperson Yogita Deshmukh; PRO – Poonam Gupta, Priyaka Shende & all SIDBI team.