Nagpur Metro & Nagpur Municipal Corporation have inked a tri-party MOU with MYBYK, which is India's most popular bike-sharing service, to provide first-and last-mile connectivity to the metro stations. MYBYK has put more than 400 bicycles at over 40 locations including every metro station and other prominent locations in the city.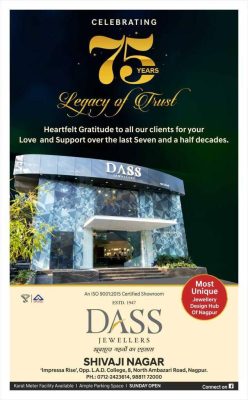 MYBYK started its services initially at all the metro stations in collaboration with Maha Metro before expanding to other parts of the city in collaboration with NMC. Cycling has become a preferred mode of transportation in Nagpur with over 4000+ users having availed the MYBYK services to perform over 20000+ trips. MYBYK is now in talks with NMC to scale it up to 1000 bikes and 100+ locations in phases.
Arjit Soni, Founder & CEO of MYBYK, said, "We have got a positive response in Nagpur and are thrilled for growth. Our offerings are a boon for citizens wanting sustainable transportation options. This strategic partnership with Nagpur Metro & NMC will connect the first and last mile of a trip and solve problems of traffic and parking in the city. This expansion is in line with our commitment to reimagining the public mobility landscape through affordability, reliability, and convenience and to setting benchmarks in sustainable transportation. We are in talks with NMC to get support in introducing Electric Bicycles as well in the future."
Dr Amit Samarth, Bicycle Mayor of Nagpur said, "Maha Metro and Nagpur Municipal Corporation has done a great job by introducing MYBYK bicycle rental facility. Cycles are of very good quality and well maintained, which citizens are also appreciating. I see many people using them for daily commuting and fitness activities. I would be glad to see the MYBYK services expanding across the city"
Customers can choose from various pricing plans offered by the company depending on their need, but the weekly and monthly Take Home plans are a hit in the city where users can bring a bicycle home for as low as ₹20/day.
These plans allow a user to ride a bike from their home to the nearest metro station, take the metro train and upon alighting pick up another bicycle from the metro station to reach their office/college.
MYBYK is currently present in Ahmedabad, Mumbai, Kochi, Pune, Indore, Udaipur, and Valsad with over 1000+ MYBYK hubs and 10000+ cycles.