Illegal action against Prof Mohan Kashikar
RTM Nagpur University Vice-Chancellor Dr Subhash Chaudhari had to apologise for his mistake in wrongfully punishing Prof Mohan Kashikar of the University's Department of Political Science. The unconditional apology was tendered in the Nagpur Bench of Bombay High Court during hearing on a petition filed by Prof Kashikar.
Prof Kashikar had moved the court against the departmental enquiry initiated against him by Dr Chaudhari. Prof Kashikar was charged of professional misconduct. Prof Kashikar was removed as Head of the Department (HOD) by Dr Chaudhari. The bench comprising Justice Sunil Shukre and Justice Anil Pansare passed oral strictures against the VC for his failure to withdraw the departmental enquiry and directed the VC to reinstate him (Kashikar) immediately. Pertaining to another petition by Prof Kashikar, the judges categorically expressed to say that the VC was not fit for the job, after he tried to mislead the court.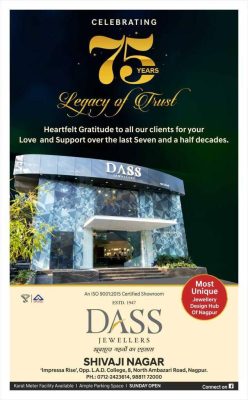 Registrar of the University Dr Raju Hiwase and Deputy Registrar Pradeep Biniwale were personally present and tendered unconditional apology on behalf Dr Chaudhari and also assured that such mistake will not be conducted in the future.
The court ordered to pay the dues to Prof Kashikar from July 2021, when he was removed, with 7% interest. The petitioner was further granted liberty to approach the Governor and Chancellor of the University relating to the demand to remove the VC for victimization and misuse of powers vested in him.
Pro Kashikar was represented by Adv Firdos Mirza, while Adv Sudhir Puranik held briefs for the University.