Orange City Water Pvt. Ltd., which provides clean and clear drinking water at every tap in Nagpur, celebrated Diwali with the underprivileged section of the community this year by donating clothing, bedsheets, blankets, educational materials, groceries, and other essential items, illuminating lights in their lives.
The goal of this action was to put a smile on the faces of those in need and to create a festive atmosphere so that those who are less fortunate will not feel excluded from the privileged, in line with the Veolia Group's basic values.
All OCW employees generously gave their new and used clothing, bedding, blankets, toys, educational materials, and consumables during our Hand to Humanity event.
The Hand to Humanity donation campaign was organised by OCW for its staff from October 10 through October 21, 2022. This is a CSR initiative by OCW in collaboration with the partner NGO "Chalo Khushiyan baante."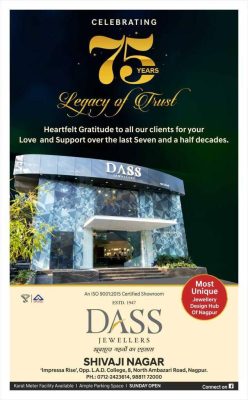 Every OCWian, from senior officials to the ground crew, actively participated in the event and gave their all for this admirable cause, which received a tremendous amount of support.
The decorated collecting boxes were housed in OCW's ten Zonal offices, one in each zone, including the head office and Water Treatment Plants (WTPs).
The whole donation collected was given to the NGO volunteers on the final day of the drive so they could distribute it.
In a statement made in honour of OCW CEO Sanjoy Roy, OCW COO Rahul Kulkarni said that OCW staff members were inspired to perform more deeds of kindness in the future as part of their social obligation for the residents of Nagpur.
It should be noted that in addition to providing Nagpur residents with sufficient access to clean drinking water, OCW also works closely with the community to improve the quality of life for Nagpur residents.
In recent times, OCW and the NGO UPAY collaborated to open a samarth centre in the Ganganagar slum.