Dr.Pankaj M. Raut,Senior Consultant Cardiologist, RHYTHM HEART & CRITICAL CARE shares ways to reduce the risk of heart disease (CVD).
Dr. Pankaj M. Raut said that Cardiovascular disease (CVD) is the world's biggest killer, claiming 18.6 million lives globally every year. In only 30 years, the prevalence of cardiovascular disease (CVD) nearly doubled, from 271 million in 1990 to 523 million in 2019.
World Heart Day is an opportunity to highlight the actions that individuals can take to prevent and manage CVD.
A total of 80% of premature CVD deaths are preventable by limiting risk factors such as tobacco use, unhealthy diet and physical inactivity.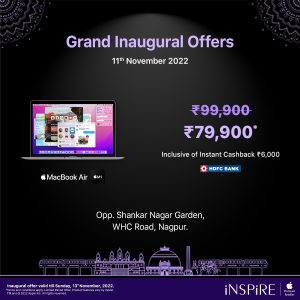 DID YOU KNOW?
High blood glucose (blood sugar) can be indicative of diabetes. CVD accounts for the majority of deaths in people with diabetes so if it's left undiagnosed and untreated it can put you at increased risk of heart disease and stroke.
EAT WELL
Cut down on sugary beverages and fruit juices – choose water or unsweetened juices instead.
Swap sweet, sugary treats for fresh fruit as a healthy alternative.
Try to eat 5 portions (about a handful each) of fruit and veg a day – they can be fresh, frozen, tinned or dried.
Keep the amount of alcohol you drink within recommended guidelines.
Limit processed foods that are often high in salt, sugar and fat – unpack and unwrap less, peel and cook more.
DID YOU KNOW?
High blood pressure is one of the main risk factors for CVD. It's called the 'silent killer' because it usually has no warning signs or symptoms, and many people don't realise they have it.
BE MORE ACTIVE
Aim for at least 30 minutes of moderate-intensity physical activity 5 times a week.
Or at least 75 minutes spread throughout the week of vigorous-intensity activity.
Playing, walking, housework, dancing – they all count!
Be more active every day – take the stairs, walk or cycle instead of driving.
Stay fit at home – even if you're on lockdown you can join virtual exercise classes and workouts for the whole family.
DID YOU KNOW?
Cholesterol is associated with around 4 million deaths per year, so visit your healthcare professional and ask them to measure your levels, as well as your weight and body mass index (BMI). They'll then be able to advise on your CVD risk so you can take action to improve your heart health.
SAY NO TO TOBACCO
It's the single best thing you can do to improve your heart health.
Within 2 years of quitting, the risk of coronary heart disease is substantially reduced.
Within 15 years the risk of CVD returns to that of a non-smoker.
Exposure to second-hand smoke is also a cause of heart disease in non-smokers.
By quitting/not smoking you'll improve both your health and the health of those around you.
If you're having trouble stopping, seek professional advice and ask your employer if they provide smoking-cessation services.
Beating CVD is something that matters to every beating heart. World Heart Day is an opportunity for everyone to stop and consider how best to use heart for humanity, for nature, and for you.