Centre Point School, Amravati Road Bypass' Lawn Tennis player Maanvendra Trivedi has won plaudits for his excellent gameplay in the Lawn Tennis DSO District Level Tournament. The sporting events were conducted by DSO Nagpur from 22nd to 24th November 2022 at the Officer's Club Nagpur. Teams from around 8 schools had participated in the event to prove their mettle.
Maanvendra represented the school in the U-14 Boys' category.
Maanvendra performed directly in the second round after winning a bye in the first round. He beat Shourya Agrawal by 3-1.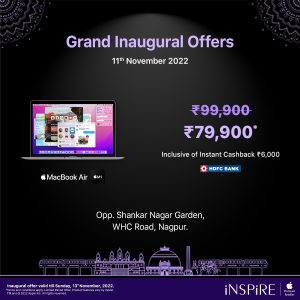 In the Quarterfinal round, Maanvendra beat Kartik Chandak by 3-0
In the Semi-final Round, he lost to Akshat Dakshindas by 0-3
In the 3rd position Match, Maanvendra beat Ahaan Shory by 3-2, and scored 8-6 in the tie-breaker round.
He got selected for the divisional level tournament and went on to secure success in the tournament.
In the 1st Round, Maanvendra beat Abhinav. B by 3-1
In the 5th Position Match,
In the first round, Maanvendra beat Mehul Fulzale by 3-0
In the second round, he beat Virat Pande by 3-0
Maanvendra impressed one and all with his skills and was selected to contest in the Lawn Tennis State Level U-14 Boys D.S.O Tournament.
Principal, Mrs. Perveen Cassad, Vice-Principal, Mrs. Bhakti Bobde, mentor, Mr. Ganesh Bagde, and the staff commended Maanvendra and wished him success in the forthcoming matches.