Vidarbha Industries Association (VIA) MSME Forum in collaboration with Amravati Industries Associations and LITAA recently jointly organized a two-day workshop on Emerging Opportunities in the Food Processing Sector Vidarbha.
VIA has taken an initiative as a district outreach, VIA has decided to organize numerous programs for the benefit of the industrial community of Vidarbha.
The contents of this workshop were designed with a view to propel the economy of our own Vidarbha region further, while also taking into consideration the ever-growing demand of the Food Processing sector in every part of the country.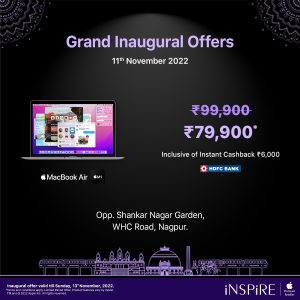 The purpose of this undertaking was to guide the aspiring and budding entrepreneurs, existing industry owners and traders and share the varied perspectives about the feasible food processing projects that would be uniquely Vidarbha so that they come forward and invest to become successful industrialists.
Expert Speakers, Dinesh Garg, MD and Gaurav Garg, CEO of Leelaram Enterprises, New Delhi conducted the workshop-cum-discussion with Amravati Industries Association at Amravati.
Garg said past couple of years have seen a skyrocketing growth in demand for Ready-to-eat, Ready to cook, Ready to Process products. He guided the participants about fruits & vegetable processing for the local available varieties, various ethnic snacks, namkeens, savories etc. He explained an array of Food processing opportunities along with product wise investment matrix, average ROI & raw material wise growing areas of Vidarbha. He said the potential of Ready to eat / Cook processing foods, Beverages like Oranges Drinks, Mahua Wine, Namkeens, Dairy, Bakery, Organic / Forest produce from forests. He also explained the concept of One District One Product as enlisted by the central Government.
He further stated that the Food industry can flourish in Vidarbha only by way of awareness, proper selection, timely financial assistance, Infrastructure etc. He also advised participants to synergize the potential private investment with the rural sector. He stressed that apart from Processing Technology, entrepreneurs need to focus on supply chain management, marketing & brand building, Value for money products, Food Safety & use of Proper packaging solutions for enhancing shelf life, aesthetics & appeal of the product to the market. MSME projects ranging from investment of Rs.75 lakhs to 15 Crores were discussed by both the expert speakers.
The workshop was inaugurated by Chief Guest – Arun Warangaonkar, Managing Director of Gharrkul Masala. Prominently present on the dais were Vinod Kalantri, President of Amravati Chamber of Commerce & Industry, CA Girish Deodhar, Chairman of VIA MSME Forum, Dilipbhai Popat (Raghuveer Namkeen, Mithaiya), Suresh Singh Thakur (Palekar Bakery), Omprakash Khemchandani (Manbhari, Primi Food) as the sponsors, Guest of Honour, G O Bharati, JDI, Nagpur & Amravati Region & Special Guest, Uday Puri, GM (Retd) District Industries Center.
CA Girish Deodhar, Chairman -VIA MSME Forum answered the participants about finance-related questions. More than 137 reputed industries attended the workshop.
Earlier Alumni Association LIT, Amravati, welcomed Girish Deodhar & Dinesh Garg with a shawl and shreephal. Amravati Chamber of Commerce & Industries thanked VIA for the guidance and support on the workshop. President of VIA, Vishal Agrawal, thanked Amravati Association for hosting this event and further said in future, we will be organising more seminars on different sectors for the benefit of our industrial fraternity and budding entrepreneurs of our region.