The Vidarbha Golf Association (VGA) Annual Golf Championship 2022 was held at the well maintained AKSTA golf course on 26th and 27th November 2022. With fantastic weather, the event saw 115 golfers participating in the tournament across various categories. Players from Nagpur and neighbouring cities participated.
Anuj Singh secured a one shot victory after a nerveless round on Sunday 27th November. He had a gross score of 79 and a impressive net score of 67 to win th VGA annual golf championship, the most prestigious golf tournament of the Vidarbha region. His round included 9 pars and 2 birdies. Anuj's ball-striking, the best aspect of his game through the week, stood out for him once again as he found the edges of a couple of par-4 greens with his tee shots and a couple of par-5 greens with his approach shots to set up chip-putt birdies there. Anuj also recovered beautifully on the 3rd hole and had an amazing chip shot on the 14th hole to set up an easy birdie.
Anuj said, "I thank my family and my coach, Laurence Brotheridge (based in UK), who have always believed in me. My father sent me a motivational text in the morning today which also encouraged me and egged me on to play well. Ball-striking was the best part of my game on Sunday. The objective at the start of the tournament was to find maximum greens as the greens are generally small here at AKSTA. I managed to execute that plan well. Overall, it was a solid round barring a couple of mistakes. I am pleased to win the VGA Golf Championship 2022 and am looking forward to the remaining golf tournaments of the season"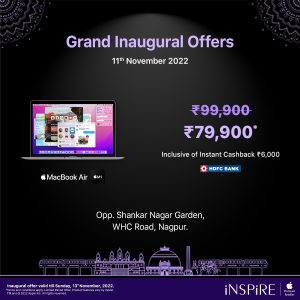 Mr Ajit Ingole had a gross score of 80 with 6 pars and 3 birdies to bag the second place finish.
This annual golf championship is organised by VGA to promote the game of golf amongst the people of the Vidarbha region. Vidarbha Golf Association also conducted a Ladies Chipping and Putting Event to promote the sport of golf amongst the ladies. There was an overwhelming response as over 30 ladies participated in the event with excitement and enthusiasm.
The prize distribution function was organised on Sunday evening to celebrate the successfully conducted tournament, and award its winners with prizes. Cocktail, dinner and live music was lined up. The august presence of Sh. Mir Ranjan Negi, Indian Hockey Player and coach (of Chak De fame), Air Marshal CR Mohan AVSM VSM SMSO HQ Maintenance Command and Chairman of the golf course and Mrs Usha Mohan added to the grandeur of the event. They also motivated and encouraged the audience with their words. Gp Capt DP Mishra concluded the evening by congratulating The VGA Executive Body for a successful conduct of the golf event and also congratulated all participants, winners and the ground staff who work tirelessly to maintain the pristine course conditions.

Final results and prizes awarded
Open Category (75 golfers participated – played over 18 holes)
Open Category Winner of the tournament – Anuj Singh (79)
Open Category Runner Up of the tournament – Ajit Ingole (80)
Best Net Score Winner – Maj Manu Awasti (83)
Best Net Score Runners Up – Gp Capt Sachin Garud (83)
Best Stableford Winner – Air Cmde Vikash Dwivedi (85)
Best Stableford Runners Up – Jayant Darvekar
Longest Drive – Col Rajavelu
Maximum Pars and Birdies – Yogendra Singh
Closest to the Pin – Shashank Vishwarupe
Closest to Centre Line – Subhas Chandra
Closest to the Pin after 2nd Shot – Pradip Barik
Veterans (Ages 65 and above – played over 9 holes) (26 golfers participated)
Winner – Col SJ Majumdar (43)
Runners Up – Lt Col Mrigendra Singh (45)
Best Net Score Winner – Pranab Choudhary (45)
Best Net Score Runners Up – Dr Prasant Agnihotri (45)
Longest Drive – Maj Gen Ajit Gadre
Maximum Pars and Birdies – Dr Arun Chaturvedi
Closest to Centre Line – Col Anurag Gupta
Super Veterans (Ages 75 and above – played over 9 holes)
Winner – Lt Col RS Duggal (62)
Runners Up – Gp Capt Dinu Deshpande (66)
Ladies Championship (played over 9 holes)
Winner – Ms Manya Aggarwal (52)
Runner Up – Mrs Ruchira Pande (55)
Ladies Chipping and Putting
Winner Mrs – Mrs SB Singh
Runners Up – Mrs Zilpewar