The Union Minister for Highways, Road Transport Hon Nitin Gadkari today felicitated Maha Metro Managing Director Dr Brijesh Dixit for Wardha Road Double Decker Via-duct being nominated in the Guinness World Records as the longest double decker in the metro category in the entire world. Dr Dixit was felicitated during the ongoing Khasdaar Mahotsav being held at Ishwar Deshmukh College of Physical Education.
"I heartily congratulate Dr Dixit as Guinness World Record has brought good name to the city. I also congratulate Director (Strategic Planning) Shri Anil Kokate and former Director (Projects) Shri Mahesh Kumar for the same," said Mr. Gadkari while speaking on the occasion. He said that this double decker viaduct is the first of its kind in India and the credit for the same goes to Maha Metro.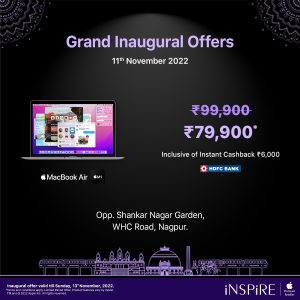 Shri Gadkari also congratulated Maha Metro employees for the same. "This year there have been 8 different Guinness World Record Nominations related to my department and I am very happy for that,'' he added.
The shortlisting of projects for the Record is a shot in the arm for Maha Metro. Moreover, more such records are set to be broken in the near future. These records and the recognition which followed is a genuine indicator of the way Maha Metro has been executing the project in Nagpur.
Maha Metro had bagged Asia and India Book of Records for not just Longest Double Decker Via-duct, but also for Maximum Metro Stations Constructed on a Double Decker Via-Duct. It may be recalled that Union Surface Transport and Highways Minister Shri Nitin Gadkari had presented certificates for the two Records at an event held on 10th July 2022 at Convention Centre, Airport South Metro Station.