Vidarbha Computer and Media Dealers' Welfare Association (VCMDWA) is hosting the 29th edition of the most awaited and bigger IT extravaganza of Central India, "COMP-EX 2023" with more than 76 participants comprising companies offering various IT products and service providers.
One can visit the expo at Reshimbagh Ground from January 12 to 15, 2023. Daily timings for visitors at the Comp-Ex would be from 12.00 noon to 9.00 pm.
The highlight of the Comp-Ex will be a glimpse of the latest in laptops and PCs. Wide-ranging products at wide-ranging price bands suitable for all pockets will be there with low-cost machines, tabs, laptops, and low-cost printers starting from as low as Rs 8000/-.
Refurbished laptops and desktops have entered the market as affordable solutions, and one can buy high-configuration models from brands like Apple at a decent price. Top companies from the IT sector that will be participating in the expo are HP, Canon, Epson, Asus, Brother, Dell, Digisol, D-Link, and Lenovo.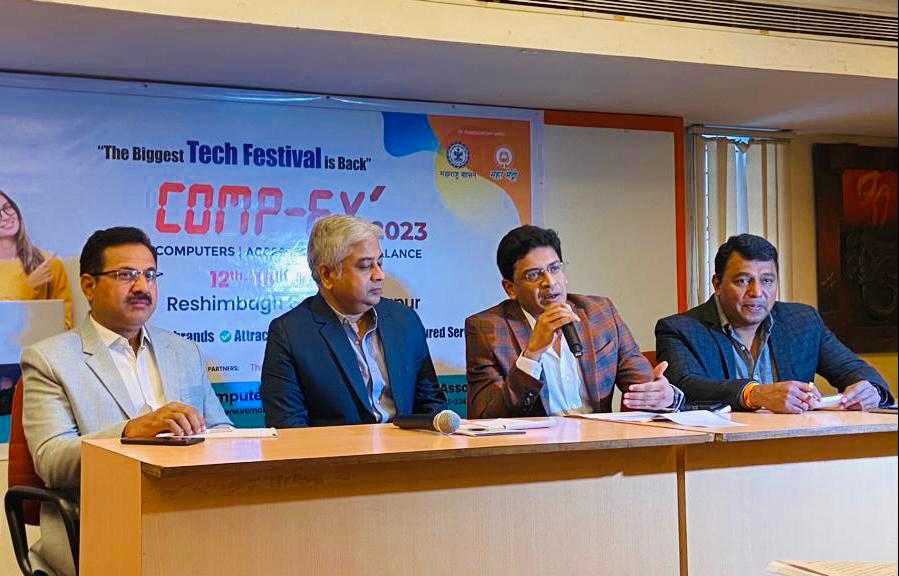 During the press conference held by the Comp-Ex 2023 Organizing Committee members of VCMDWA including Vinay Dharmadikari (President), Dinesh Naidu (Vice President), Lalit Gandhi ( Secretary), Prashant Bulbule (Treasurer), Ranjeet Umathe (Jt. Secretary), Sanjay Chaurasia, Rohit Jaiswal, and Shahzad Akhtar (Executive Body Members), told media that there would be more than 200 brands and thousands of products on display along with their know-how interaction at Comp-Ex 2023.
Maharashtra Metro Rail Corporation, the primary sponsor of Comp-Ex 2023, and the Maharashtra government are supporting the most anticipated flagship event from VCMDWA.
Maharashtra Metro Rail Corporation has been a crucial component and partner of Comp-Ex and is taking the lead in bringing the advanced and constantly changing "avtaar" of the IT sector to the end customers.
Along with making IT knowledge and expertise accessible to the general public, VCMDWA also aligns itself with society through CSR-based programs like the Assured Partner project and Cyber Security. The awareness of online transaction frauds, ATM frauds, social engineering attacks, ransomware attacks, etc. will be displayed by cyber security.