Maharashtra Centre for Entrepreneurship Development  Nagpur had arranged an Expert Talk by Dr. Sanjay S Uttarwar, a Renowned  Academician and social worker from Nagpur on the topic "Purchase Techniques and Inventory Management" during CMEGP  at their premises. Dr.Sanjay UttarwarNationally renowned academician and Ex Principal of G H Raisoni College of Engineering and Management was invited as a speaker for the session. The majority of participants were present for his talk.  In the beginning, Hemant Waghmare, and Shrikant Kulkarni Project officers gave floral welcome to Speaker, and comparer Jyoti Dhirde Coordinator MCED  introduced him to the gathering.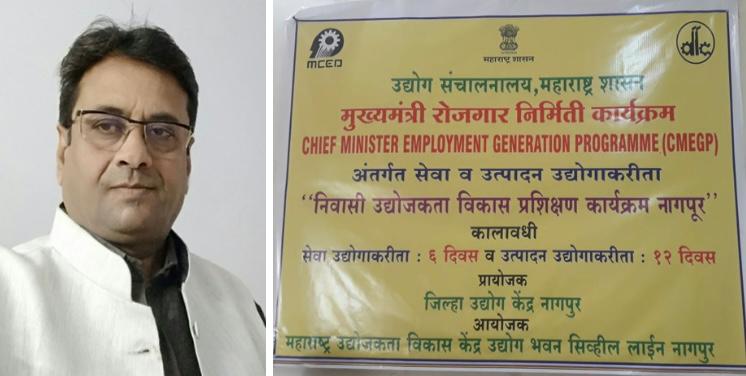 The expert started his talk with the present condition of start-ups. The speaker shared the importance of Industrial Engineering Skills with the gathering. He gave a brief idea about society's expectations of entrepreneurs as a whole.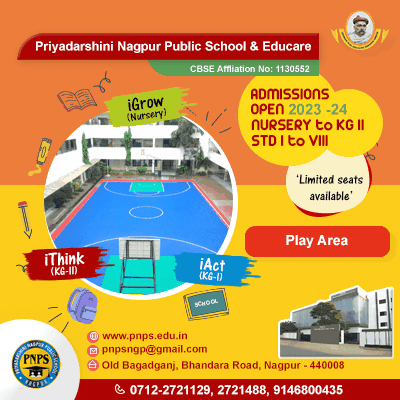 Dr Sanjay S Uttarwar is a  renowned Academician of central India and in this field for the last thirty-three years.  He has proved his expertise by serving renowned educational groups of Maharashtra and MP.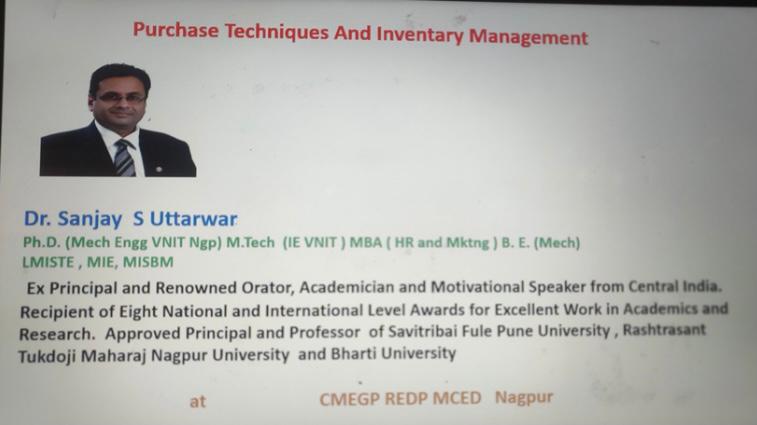 At the beginning of his career, he was Entrepreneur and was having his manufacturing unit in MIDC Yavatmal. In 1995 he switched over to the teaching line and started his career as a full fledge teacher at BNCOE Sevagram, Wardha. Later he shifted to Nagpur and has done Post graduation and Ph.D. from Visvesvaraya National Institute of Technology, Nagpur In Mechanical Engineering.  He has served renowned educational groups from Maharashtra and MP in various Capacities. For the Last eight years, he is working as Principal of Engineering College. He is the recipient of seven National and International Level Awards for his outstanding contribution to the field of academics and research. He has visited the UK, Singapore, and China to present research papers at International Conferences.  He is having sixty research papers to his credit which are published in International Journals and Conferences.  He is a renowned Motivational Speaker from the region and is frequently invited by TV Channels, Radio, and Educational Institutes for delivering lectures on various motivational topics. In addition to it, he is a popular singer from Nagpur and has performed at various musical concerts which took place at auditoriums in Nagpur.
Dr. Sanjay Uttarwar expressed his views:
In his delivery, Dr. Uttarwar highlighted the life and the importance of learning Purchase Techniques and Inventory Management with examples. He elaborated on the importance of acquiring it to the audience. He gives tips to the audience regarding effective applications o these skills.  He says that work should be treated as the mission at hand rather than a routine boring task. Entrepreneurs should constantly update himself or herself to full fill demands of today's competitive world. Today's Customers are very smart and they easily understand the situation. They are computer and mobile experts. While explaining his role as an Industrial Engineer, he says that "we are in need of realize the importance and frequent use of required  skills in life."
Dr. Uttarwar further added The world is undergoing rapid changes in the knowledge landscape. With various dramatic scientific and technological advances, such as the rise of big data, machine learning, and artificial intelligence. At the same time, entrepreneurs should be well equipped with all sorts of required skills to face challenges that come on the path to success. He further gives important tips to gather for how to get succeed in their task.  He explains its importance with suitable examples. The gap between the current state of learning outcomes and what is required must be bridged by undertaking major reforms that bring the highest quality, equity, and integrity into the system.
Later Dr. Uttarwar explained the importance of various techniques. He explained various types of techniques and elaborated on their impact on our careers.  During his motivational delivery, Dr. Uttarwar recited a popular Hindi song and received a lot of applause from the audience. Hemant Waghmare, and Shrikant Kulkarni Project officers, in their concluding remarks, talk about the present scenario of start-ups and urge gathering to acquire skills for their success in life.
Later on, a Question and answer session was conducted where Dr. Sanjay Uttarwargave answers the questions asked by the audience. Participants Ask their doubts about the betterment of their Careers.  The audience enjoyed and loudly appreciated the delivery of Dr. S S Uttarwar and gave thanks to him for throwing light on the importance of skills and Inventory Management. Jyoti Dhirde MCED Coordinator expressed her gratitude towards Speaker and proposed a Vote of Thanks.