'Nagpur @ 2025' is an initiative for joint action by Citizens, Corporate, and NGOs led by the VED Council in collaboration with the local administration of the city, viz Nagpur Municipal Corporation and Nagpur Police. With the clarion call "Our city makes us the people we are" the aim and intent of 'Nagpur@2025' is to bring together all the above on one platform to enable the city's transformation by identifying, implementing, and monitoring sustainable, focused initiatives and projects.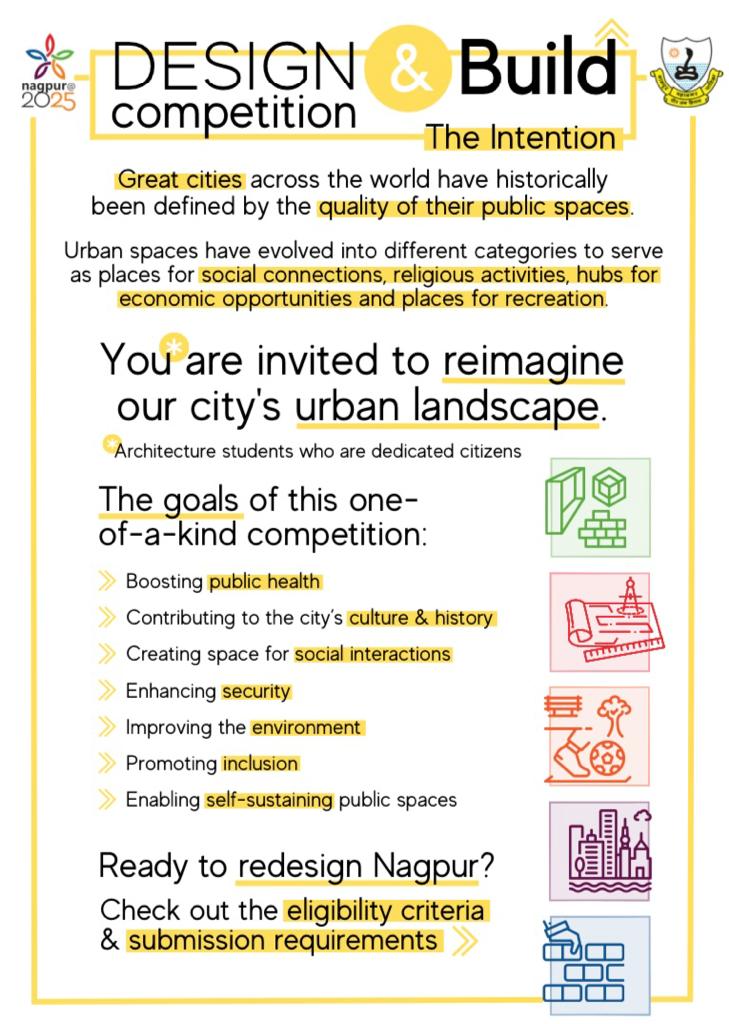 The aim is to instill pride, positivity, and ownership amongst the citizens and to make Nagpur a fantastic city to live, work & enjoy. They have identified Five Focus Areas to work on – Waste Management and Cleanliness, Public Toilets and Conveniences, Traffic management, Public Spaces, Gardens and Recreational Areas, Rejuvenation of the Lake, and Conservation of Heritage Sites.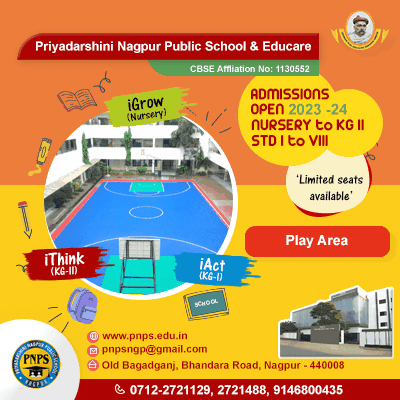 On 23rd February, Nagpur@2025 and Nagpur Municipal Corporation launched a first-of-its-kind Design and Build Competition for the students of architecture and urban design colleges in Nagpur. Great cities across the world have historically been defined by the quality of their public spaces. Urban spaces have evolved into different categories to serve as places for social connections, religious activities, hubs for economic opportunities, and places for recreation.
It is a competition wherein students get an opportunity to implement their vision for the benefit of our city. The competition is aimed at boosting public health, contributing to the city's culture and history, creating space for social interactions, enhancing security, improving the environment, promoting inclusion, and enabling self-sustaining public spaces.
Students were suggested to choose any neglected or underutilized space within Nagpur's municipal limits and apply their design expertise to re-imagine its potential to transform it into a functional and valuable asset for the community.
They were given the liberty to select any urban space, including but not limited to Squares, Gardens, Markets, Public toilets, and Spaces under flyovers.  Participants would be evaluated on the basis of their creativity and ingenuity, social impact and inclusion, economic feasibility, sustainability and regeneration, site selection, and contextual sensitivity.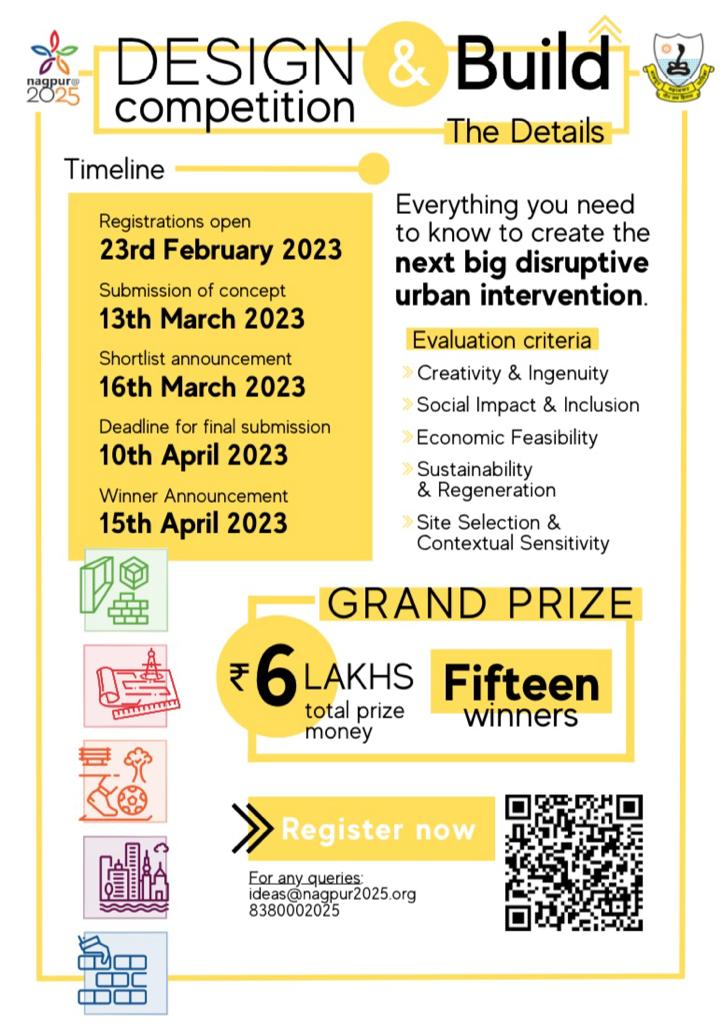 The registration process commenced on 23rd February with 13th March set as the last date for registration and submission of Concept Note. Till the time of the release of this note, More than 90 teams have registered themselves for the competition. From these 90+ submissions, a select number would be shortlisted by a jury on 16th March, and then with these shortlisted entries, the teams would be tasked to share their detailed plans.
The competition has received an overwhelming response from the students of Priyadarshini Institute of Architecture & Design Studies, Shri Manoramabai Mundle College of Architecture, Institute of Design Education & Architectural Studies, Jhulelal Institute of Technology, and VNIT. 15 winners will be eventually chosen by an eminent jury consisting of experts from product design, Landscaping, Urban Design, NMC, Traffic Police, and  Nagpur@2025. The total cash prize for the winners of this competition is Rs. 6 lacs.