Recently there were many incidents reported wherein the police officials were found violating the new traffic rules which had created a ruckus among the citizens. In view of this, traffic police on Tuesday morning undertook a special drive and took action against the police personnel who were caught flouting new traffic rules.
Around 43 police personnel were challaned for not wearing helmet whereas 12 were charged for driving without a seatbelt. Total 54 policemen were fined during the drive.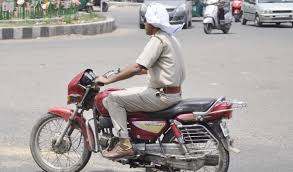 Fine of 500 was levied on them with a warning to strictly follow traffic rules. Meanwhile, 12 vehicles of Anti Corruption Bureau, Crime Branch, various police stations and officers were also stopped. The drive was conducted on Katol road as many police officers are from Katol area.
People were amazed to see that action against the violators was taken irrespective of their posts and designation.
According to the sources, this surprise checking drives will continue in the coming days. The drive was successfully carried out by Deputy Commissioner, Chinmay Pandit, PI Atul Sabnis, API Prithviraj Chavan, Thakur and their colleagues under the guidance of Nagpur Police Commissioner, Bhushan Kumar Upadhyay, and Joint CP Ravindra Kadam.
Get all the latest and current news Nagpur here. For an exclusive & live updates from the Nagpur, stay connected with THE LIVE NAGPUR.