An abacus is an ancient calculating tool that dates back to centuries. ALAMA ABACUS, an ISO 9001 – 2008 Certified Organization which offers BRIDGE COURSE using ABACUS CONCEPTS for better understanding of mathematics in combination with fun and higher focus on logical thinking.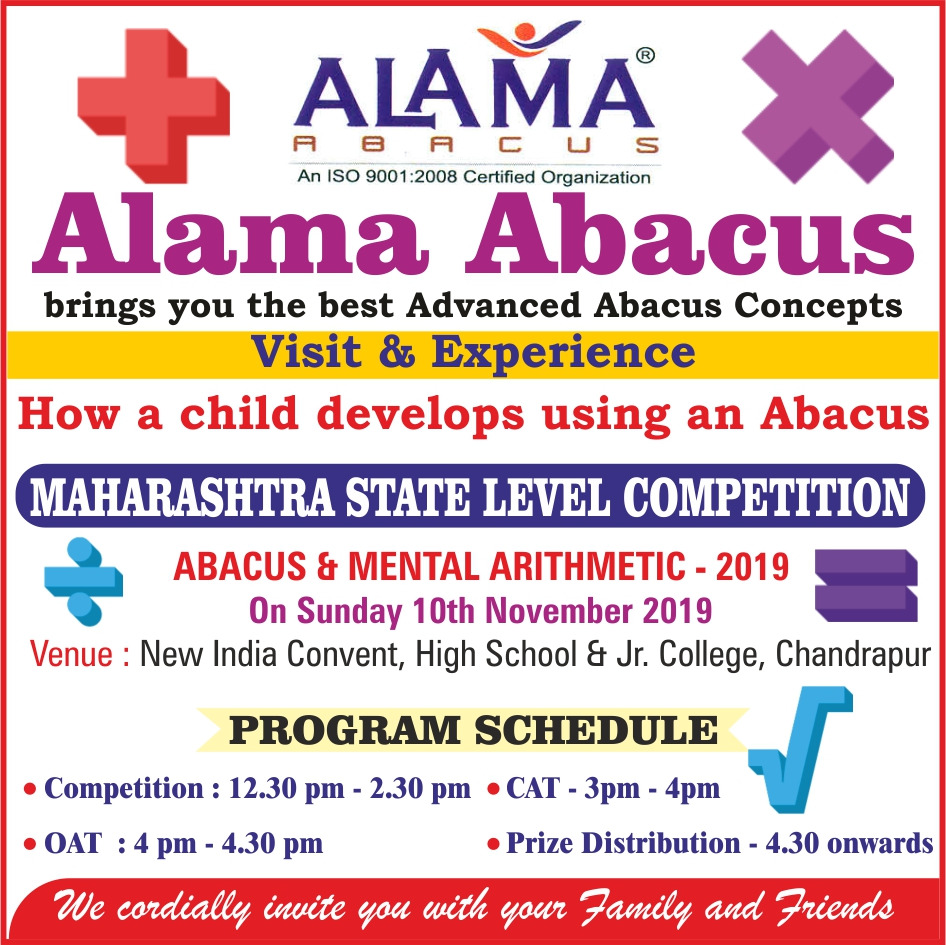 ALAMA is a unique educational group that is dedicated to enhance the skill and brain development in children and has gained reputation for its distinctive programme.
ALAMA ABACUS is organizing, Maharashtra State Level Competition-2019 of ABACUS & MENTAL ARITHMETIC' on Sunday,10th November 2019 to be held in New India Convent, High School & Jr.College,Chandrapur.
Prof.Suryakant B.Khanke,General Secretary Gondwana Shikshak Prasaran Mandal,Chandrapur.Mrs.Kalpana Pradeep Pundalikar,Editor of Dainik Mahavidharbh&Hindi Mahavidharbh,Chandrapur.Mr.Ashish R Dheer,Chairman of New India Convent High School&Jr College,Chandrapur as Chief Guest, Mrs.Padmavati Muthukumar,CEO & Founder Alama International,Hyderabad.Mr.G.Muthukumar,Co-Founder Alama International,Hyderabad.Mr.M.Vinoth Kannan,Master Franchise of Alama,Tamilnadu.Mrs.Ezhilarasi Vinoth Kannan,Trainer&Co-ordinator of Alama,Tamilnadu will be the Guest of Honour along with Mrs. Vani Ramji, Master Franchisee and her team of Alama Maharashtra for the programme.
The programme schedule:
Competition will be from 12.20-2.30 pm.CAT-3pm- 4pm, OAT-4pm- 4.30pm.Afterwards the prize distribution-4.30pm onwards.Alama Abacus is anticipating your esteemed presence to make the programme a successful one.
For details please contact
Chandrapur: 9403816308, 9158604767.