Hair is not just the best beauty ally for women but is also central to her identity and expression. An exemplification of her moods and feelings, hair is an intimate characteristic of a woman that lends volumes to her persona.
This is especially true in the case of Indian women, where hair has always been an integral accessory to one's overall appearance. No matter the length of hair or how one chooses to style it, a woman's hair plays an important role in their lives and impacts how they feel about themselves. Recognizing this, Parachute Advanced has introduced an emotive campaign that brings to life this unique personification, which is core to a woman's identity.
In association with Parachute Advanced, renowned female celebrities including Indian film actress Priya Bapat, took to social media, expressing how their hair has helped shape them into the beautiful, confident women they are today. On Women's Day, Priya Bapat put up a video post on Instagram saying, "For me, my hair reflects who I am, it expresses and reflects a lot of my moods. The next time someone tells you to maintain your hair in a certain way, just do not bother about it. Your hair is who you are. So, just own it!"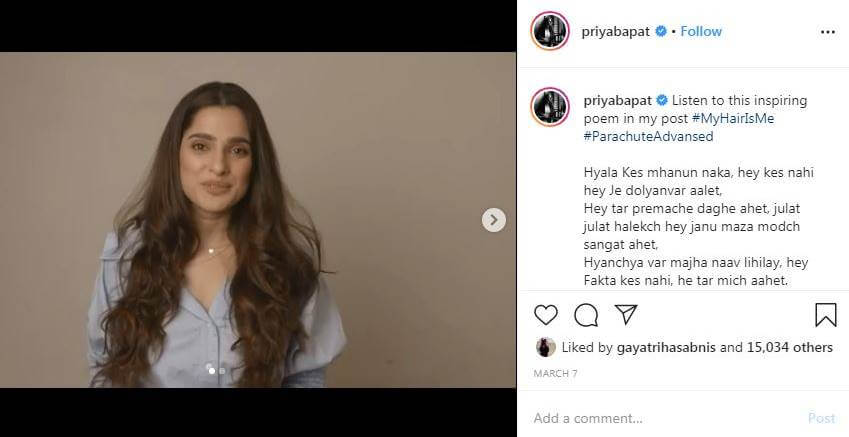 On Instagram, the Marathi actress beautifully recited a few lines from the Parachut Advanced brand film that struck a chord with her, "Hyala kes mhanun naka, hey kesnahi. Hey je dolyanchya pudhe ahet, hey tar premache daghe ahet. Julat julat halekch, hey janu maza modch sangat ahet, hyanchya var majha naav lihilay. Hey kes nahi, hey tar mi ahe. Majhe kes majhe praan ahet!"
The campaign by Parachute Advanced builds on modern beauty imagery while using real-life instances where the hair is fundamental to the expression of a woman's emotions and frame of mind. It aims to emphasize the importance of strong, beautiful hair in the life of women of this country.
The ad film artistically showcases how for some women; their hair is a symbol of a firm resolution, or for wings to soar high but for most, these aren't just hair, they are threads of love. Parachute Advanced, a brand that has been an ally of women since its inception, truly understands the essence of hair in their lives and urges them to use nothing but the best to nourish it.