HRD Forum of Vidarbha Industries Association will be organising a session on Business Excellence – Lean HR way on Tuesday, 14th April 2020 from 5.00 pm to 6.00 pm at through ZOOM.
Key speaker, Dr. Dinesh Khisti is having 36 years of exposure in Business Excellence, Business Management, Total Quality Management, Total Productive Maintenance, Lean Practices, Toyota Production System and HRM. His hands on experience in Training and Development for the Corporates for World Class Management Practices like SWOT, Human Resource Development, Vision, Mission, Core Values and Strategic Management is highly appreciated worldwide by the Multi-Nationals.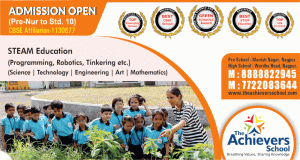 His expertise in the field is highly appreciated by Mitsubishi Japan, Rexnord USA, Lemken Germany, Bombardier Canada and Ross School of Business Management – University of Michigan, USA.
To know more about business excellence from eminent speaker, kindly join us thru zoom: https://us04web.zoom.us/j/8238496145 /Â Meeting ID: 823 849 6145
For details contact Suresh Pandilwar, Co-Chairman of VIA HRD Forum (9881012443) Neelam Bowade, Convener of HRD Forum (9860264860).
Program is open for HR & IR Professionals, Industrialists, Entrepreneurs, says a press note issued by Hemant Lodha, Chairman of VIA HRD Forum.