In commemoration of its 74th Foundation Day on March 1, 2021, Indian Bureau of Mines would be celebrating this auspicious day as 'Khanij Diwas'. The prevailing COVID-19 situation and the restrictions imposed by the civic authorities have indeed cast a shadow on the zeal for hosting the celebrations. However, efforts are abound to not to be subdued and therefore arrangements have been made to organise the celebratory function on virtual mode.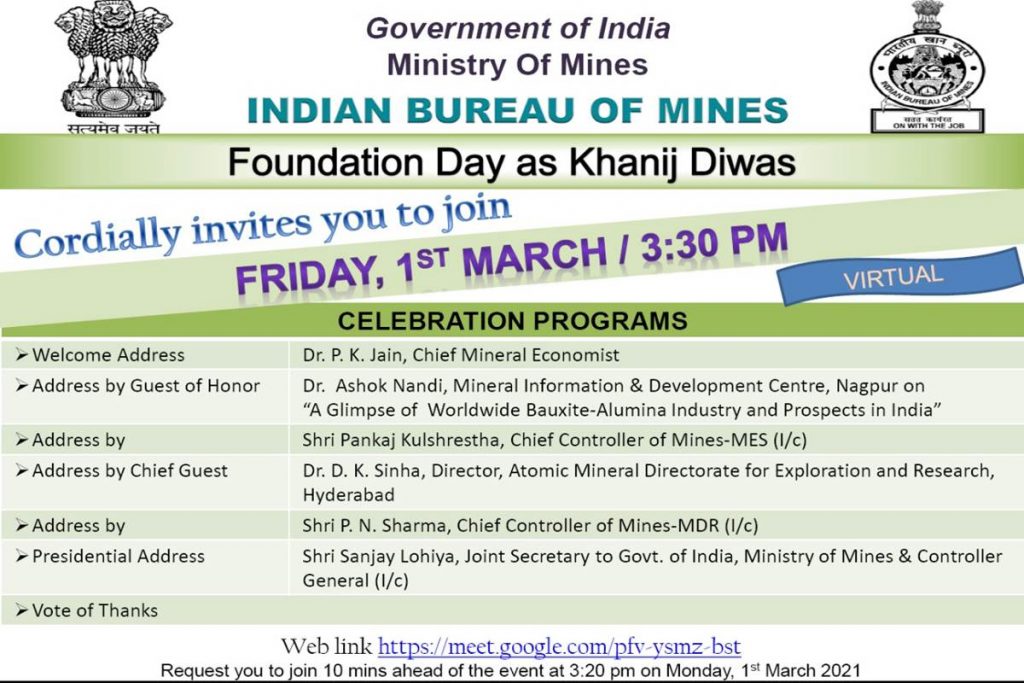 For the first time, the programmes of Kanij Diwas at IBM would be organised digitally via e-way—web links have been created and the celebratory activities are to be coordinated and conducted through online medium. The Joint Secretary to the Govt of India and Controller General (I/c), IBM, Sanjay Lohiya, would grace the function from New Delhi while P N Sharma, Chief Controller of Mines–MDR (I/c) will preside over the occasion along with Shri Pankaj Kulshrestha, Chief Controller of Mines–MES (I/c). Dr D K Sinha, Director, Atomic Mineral Directorate for Exploration & Research, Hyderabad, has consented to be the Chief Guest and Dr Ashok Nandi, Consultant, Mineral Information & Development Centre, Nagpur, will grace the occasion as Guest of Honour.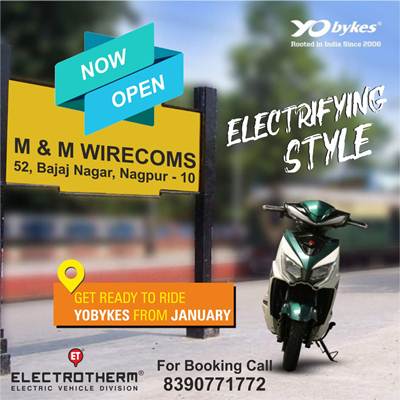 Dr P K Jain, Chief Mineral Economist and Head of the Organising Committee, would coordinate the day's programmes. The Khanij Diwas Function is scheduled to commence at 3:30 pm on March 1, 2021 and invitations to join the online programme have been duly transmitted. Participants from IBM Headquarters and all Zonal and Regional Offices are expected to web-connect themselves for the programme. An online lecture on 'A Glimpse of Worldwide Bauxite-Alumina Industry and Prospects in India' by Dr Ashok Nandi is also scheduled as part of the activity on the Foundation Day Celebrations.
It was this day, i.e., March 1, 1948 on which Indian Bureau of Mines was established. As extracted from the annals of history — pursuant to the deliberations of the Mineral Policy Conference that was held by the Department of Works, Mines and Power at New Delhi between January 10 and 13 1947, it was decided that a National Mineral Policy should be formulated and pursued. Further, to materialise the stated objectives, the Government of India thought it necessary to constitute a competent technical organisation to work in close liaison with various Ministries and Departments of the Central Government and with that of all functioning mines and consequently on 1 March 1948 set up Indian Bureau of Mines.
From a modest beginning as a purely advisory body, IBM has emerged into a premier national organisation involved deeply in the overall development of the Mineral Industry and is firmly entrenched in the principles of Scientific Development & Conservation of the Country's mineral resources. IBM's Role, Mission & Domain of Expertise have metamorphosed over the years since its inception. Newer vistas to govern the Mining & Mineral Sectors vide digital technology mode and adoption of discerning state-of-the-art technologies have led to opening of integrated development pathways of governance viz. Mining Surveillance System (MSS), Mining Tenement System (MTS), Star-Rating System under sustainable development framework, Space Technology in Mining etc.
IBM has been surpassing all benchmarks in its expansion process and now has assumed the status of a behemoth under whose surveillance are several important metallic & non-metallic minerals producing mines spread across the country and a range of other domain interests which include Ore Dressing, Beneficiation models, R&D, Environment Conservation & Restoration, Rehabilitation of Mines etc. IBM is the only repository of Mines/Minerals database — National Mineral Inventory is the sole authentic database of mines & minerals, whose maintenance & updating has become one of the chief functions of IBM.