Central Board of Secondary Education, CBSE has released an important notice on the procedure of assessment for Class 10 Board Exam 2021. The Board has explained the assessment procedure on which students of Class 10 will be assessed. The notice is available on the official site of CBSE on cbse.gov.in.
CBSE will release the final result for Class 10th on June 20. The results of the Class X Board will be prepared on the basis of an objective criterion to be developed by the Board, and any candidate who is not satisfied with the marks allocated will be given an opportunity to appear in an exam as and when the conditions are conducive to hold the exams.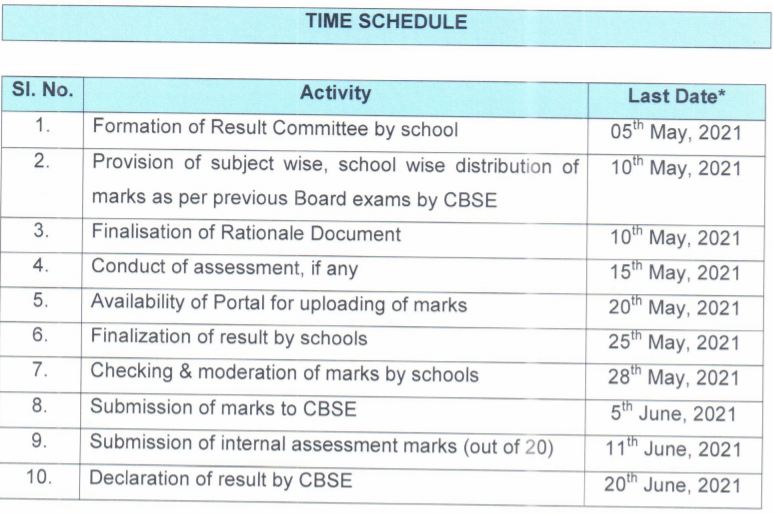 Procedure for Assessment of Students
The students will be assessed out of maximum 100 marks for each subject. As per the policy of the Board, 20 marks are for Internal Assessment and 80 marks are for Year-end Board Examinations.
The Internal Assessment for 20 marks will be as per the existing policy.
Due to cancellation of the Board Examinations, the assessment of 80 marks will be done by the school based on the marks scored by the candidate in the different tests/exams conducted by the school during the year, and
The marks should be in consonance with the past performance of the school in Class X Board examinations.
Category of Tests/Exams
Periodic Test/ Unit Test- 10 Marks
Half Yearly/Mid-Term Examinations- 30 Marks
Pre-Board Examinations- 40 marks
CBSE will compute the result based on uploaded theory and internal assessment marks. At the time of computation of result, Board's policy of awarding grace marks will also be applied to those candidates who do not meet the qualifying criterion.
Boards Policy for Qualifying Class-X Examination
In case after application of grace marks policy by the Board, any student is not able to meet the qualifying criterion, he/she will be placed in "Essential Repeat" or "Compartment Category.