Bed to population ratio highest in the state
On the backdrop of increasing frustration due to lockdown following Covid 19 pandemic, Nagpur has emerged as a city having best health facilities in proportion to its population, in the state.
As per the statistics made available by the state government, Nagpur has best ratio of beds of all kinds per million (10 lakh) population. This ratio is better compared to that in metro cities like Mumbai and Pune. The population of Nagpur district is 4.60 million (46 lakh) and the number of beds available in the district are – 16632 general, 9944 oxygen beds, 2808 ICU beds, and 994 ventilator beds. The ratio of availability of beds per million , thus is 3616 beds, which is highest compared to all other districts in the state, informs Nagpur Municipal Corporation Additional Commissioner Jalaj Sharma.
During the first wave of Covid19 in 2020 the NMC has 66 private hospitals for its support. This number rose to 88 by March end, and 146 by the end of April. This was possible due to consistent efforts by the municipal administration, elected representatives and officers. When sudden surge in Corona infection was observed during second week of March, Mayor Dayashankar Tiwari, Municipal Commissioner Radhakrishnan B, District Collector Ravindra Thakre burnt midnight oil to provide facilities to the affected. Non-availability of beds, short supply of oxygen, medicines were the serious issues confronting them, besides common people. Union Minister Nitin Gadkari, Former Chief Minister Devendra Fadnavis, Nagpur's Guardian Minister Dr Nitin Raut also rolled their sleeves to provide health facilities in the city.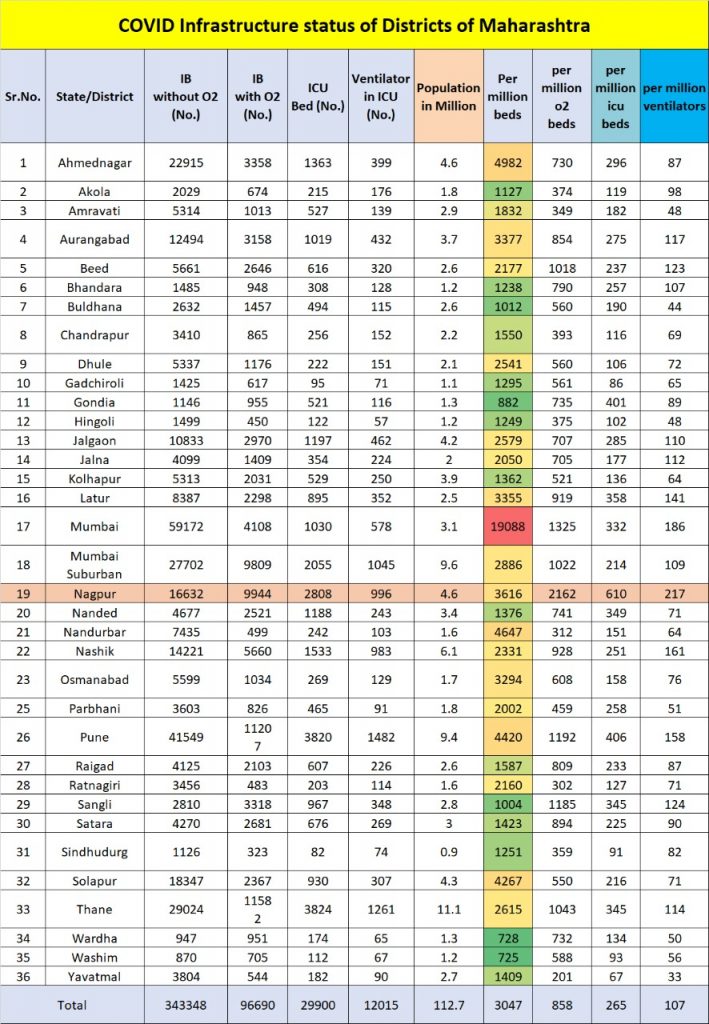 Nagpur has been catering to the needs of a large number of patients coming not only from other districts in the region, but also from adjoining states of Chhattisgarh and Madhya Pradesh. Those at the helm of affairs ensured that all the directions issued by the state government are followed strictly. This not only helped in reducing the transmission of the dreaded corona virus infection, but also eased pressure on the health machinery.
Nagpur has achieved the distinction of providing best health facilities in proportion to its population and is on the top of the best five, the other four being Mumbai, Pune, Sangli and Mumbai Sub-urban.
Help from private industries and organisations is being received. Besides Gadkari, Fadnavis, Dr Raut and other leaders are making efforts to get help from the industries. In several cases the Corporate Social Responsibility (CSR) fund is being utilized for providing oxygen cylinders, oxygen concentrators, ventilators etc to the civic administration.