The lamp lighting ceremony of the 79th batch of Probationer Nurses in the School of Nursing of Mure Memorial Hospital was held at The Ark Hall on Saturday, July 10, 2021.
30 probationer nurses were introduced into the training after taking a pledge to maintain their professional loyalty.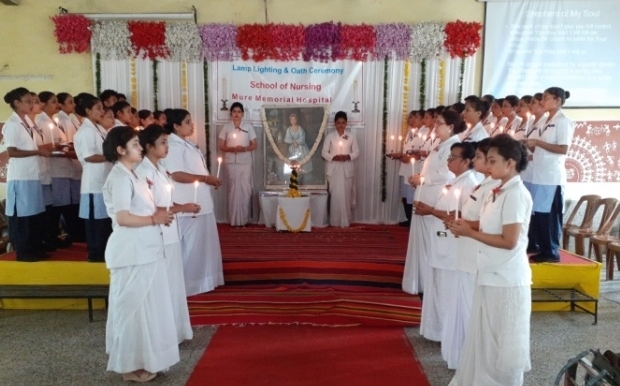 Rt. Rev. Andrew Rathod, Bishop of Nagpur Diocese, Mrs. Vijaya Rathod, DGM Bank of Baroda; Mrs. Pascaline John David, Professor VSPM College of Nursing was Keynote speaker, Rev. Sanjay Rathod and Rev. John George were present on this occasion, and lit the lamp.
Mr. Monali & Ms. Kajal, were masters of ceremony.
These students were administered the Nightingale's pledge to maintain their professional loyalty.
The lamp Lighting signifies the firm decision of these young students to be trained to care for the sick. The lighting of the lamp symbolizes transfer of knowledge, skills and spirit of nursing.
Rt. Rev. Andrew Rathod, in speech said to help other is the base of the Nursing and all religion.
Mrs. Pascaline David, said that the nurses should identify the resources and implement accordingly to their usage. She said she started from GNM and now she is doing Ph.D. We should always think of growing and updating our skills.
Mr. Vilas Shende motivated the students to strive to maintain the highest standards of their vocation. He said that Doctors and Nurses are complimentary to each other. He said it is God who has given him the profession of Nurses, and same way the God has selected you to be Nurses so you could serve the human kind.
Ms Shweta Rahangdale, proposed vote of thanks.
Dr. Sushma Dongre, Dr. Krishna Deepti, Dr. Mrs. Rajani Shende, Mrs. Yasmin Bano Vice-Principal, Mrs. Sija Naveen Nursing Superintendent, Doctors, Nurses, and staff were present to grace this day.