The work of broadgaging to connect Wadsa, Bhiwapur, Nagbhid, Brhamapuri is in progress, which will facilitate transportation of coal excavated from Chandrapur and by WCL in the region. Similarly traffic in North and Central Nagpur is being facilitated by construction of Railway Overbridge and Underpasses. The RoB from Kadbi Chowk to Golibar Chowk will help in easing traffic flow. This was stated by Union Surface Transport Minister Nitin Gadkari, here on Friday.
Gadkari was speaking during bhoomipujan programme of the railway over bridge (RoB). Bhoomipujan of the proposed flyovers from RTO to University Campus and at Wadi will also be performed soon, he added.
Maharashtra Rail Infrastructure development Corporation Limited (Maharail), Maharashtra Government and Railway Ministry is developing  he RoB between kadbi Chowk and Golibar Chowk and four new RoBs between Itwari Railway Station and Nagbhid. Gtadkari performed bhoomipujan of all the construction works on Friday.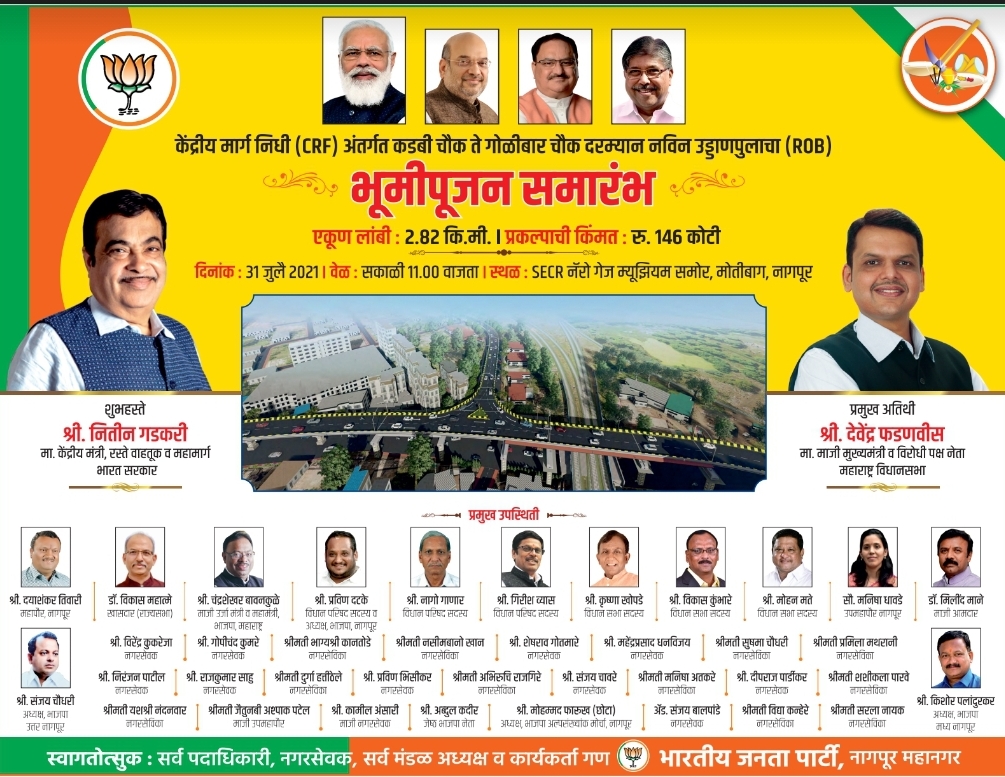 Maharashtra Chief Minister Uddhav Thackeray, PWD Miinister Ashok Chavan were the guests and attended the programme on-line. Nagpur's Guardian Ministerf Dr Nitin Raut, Animal Husbandry Minister Sunil Kedar, Mayor Dayashankar Tiwari, MP Krupal Tumane were present.
The Kadbi Chowk—Golibar Chowk RoB is 2.82 kms and will cost Rs 146 crore. The funds for Maharail has been given by the Union Ministry.
CM Thackeray said that the work on balasaheb Thackeray Samruddhi Mahamarg is in progress. Help of Union Highway Ministry will be sought for developing strength of the flyovers on this project.
Maharail Mangaing Direrctor Rajesh Kumar Jaiswal stated that the Itwari-Nagbhid broadgage convertion of 116 koms will be completed by December 2022.