Podar World School does it yet again! Students of Podar World School Nagpur have performed exceptionally well in the recently declared results for CBSE Class X.
Nagpur branch of Podar World School have registered 100% passing with each student securing good percentage.
The top three performer from each of the branches of Podar World School Nagpur are as follows: Shanky Malewar has secured 96.2%, Kaniz Fatima has secured 95.2% and Pranav Kshirsagar has secured 94%.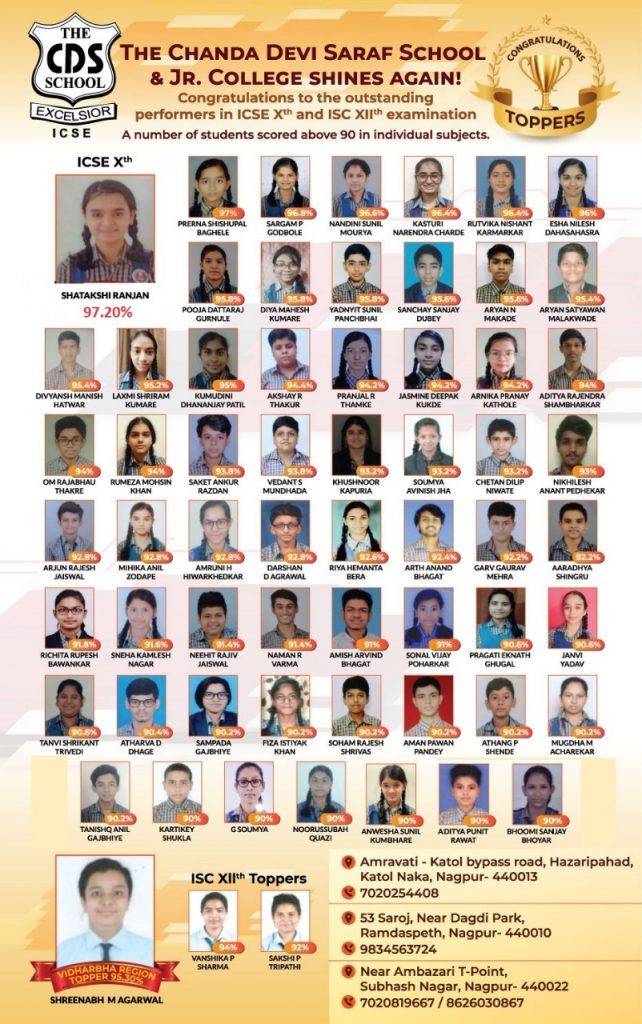 Along with these three, other students of Podar World School Nagpur have also performed exceptionally well, with 100% passing students, there are 48% of students who have scored above 80%. During the pandemic, the teachers, educators and staff at Podar World School
worked in perfect synchronization to ensure classroom quality education through virtual medium.
The school developed a routine, with inputs from parents, such that children enjoyed learning and participated through interactive virtual medium while adapting to new technological trend retaining essence of classroom education.
The Principal & teachers wish all the students their very best in all their future endeavors, Mr. Raghav Podar, Chairman, Podar Education said, "It is indeed a moment of pride for us to see all our Class X & XII faring exceptionally well in this crucial and challenging year.
This result is a true testament to their academic consistency and excellence as the assessment was based on year round performance. We, at Podar Education, have always believed that one exam
doesn't truly measure the future ready skills and competence of students. Hence, our approach has been to encourage students to maintain steady progress through our collaborative, creative and analytical curriculum. Given all these factors, this year's results hold a special place for us."
The CBSE 10th results have been assessed in an alternative way as board exams could not be
held this year due to the second wave of COVID-19 infections. The board had adopted an alternative assessment method to finalize the result.