Due to the Covid pandemic, students cannot reach out to school and many students do not even have access to online education. Shrimati Dadibai Deshmukh Hindu Mulinchi Shala, Nagri Hakka Sanrakshan Sangh and Aarti Multipurpose Educational Institution have adopted 'Education at Your Doorstep' policy for reaching out to such needy students and teaching them.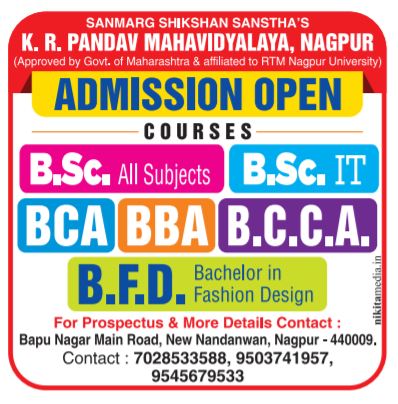 Keeping in mind that, students should not stay away from mainstream education and should not be deprived of education, Hindu Mulinchi Shala along with the said institutions are jointly implementing the project 'Education at Your Doorstep'. Members of these organizations are reaching out to various areas to teach students of different classes.
This project is not only restricted to the students of Hindu Mulinchi Shala but it incorporates the students of all other schools as well. The project is being implemented at three places in Nagpur. At Yogi Arvind Nagar, Hanuman Temple, under the guidance of Sham Harde and Manish Khanorkar, Teachers Dongre, Khadse, Bakshi, and Sheikh are teaching 37 students. While 23 students are studying at Sanjay Nandanwar's house at Winakar Colony, Tandapeth, where Girdhari Nimje and Vaishnavi Nandanwar of Aarti Multipurpose Educational Institution are helping out. Deputy Principals Subodh Ashtikar, Anita Surkar, Nita Vanjari, Jayshree Dhande and Sangeeta Kale are teaching here. The Bhaktidham temple in Shivajinagar open classroom has 28 students. Here the teaching is being conducted with help of corporator Naresh Waghmare and social activist Sanjay Parihar. Teachers Ravi Vanjari, Shailesh Meshram, Maya Sonawane, Meenal Baviskar, and Priya Atram are teaching students.
The project is being implemented under the guidance of Ravindra Fadnavis and Seema Fadnavis, President of Stree Shikshan Prasarak Mandal. School principal Maya Bamnote is working to encourage teachers. Ravindra Fadnavis has appealed to all students to take benefit of this project.