Ram Chandra Prasad Singh, Union Minister for Steel, announced wage revision for ten years and bonus befote Deepavali to the employers if Manganese Ore India Limited (MOIL) at a function held here on Sunday, bringing cheers to them.
The announcement came in response to the speech made by Ramavatar dev Devangan, Leader of MOIL Kamgar Sanghtana, who said the authirities concerned failed to solve the demand of wage revision for the last 16 months and the management not declaring about bonus to the workers even though the festival if lights is roubd the corner.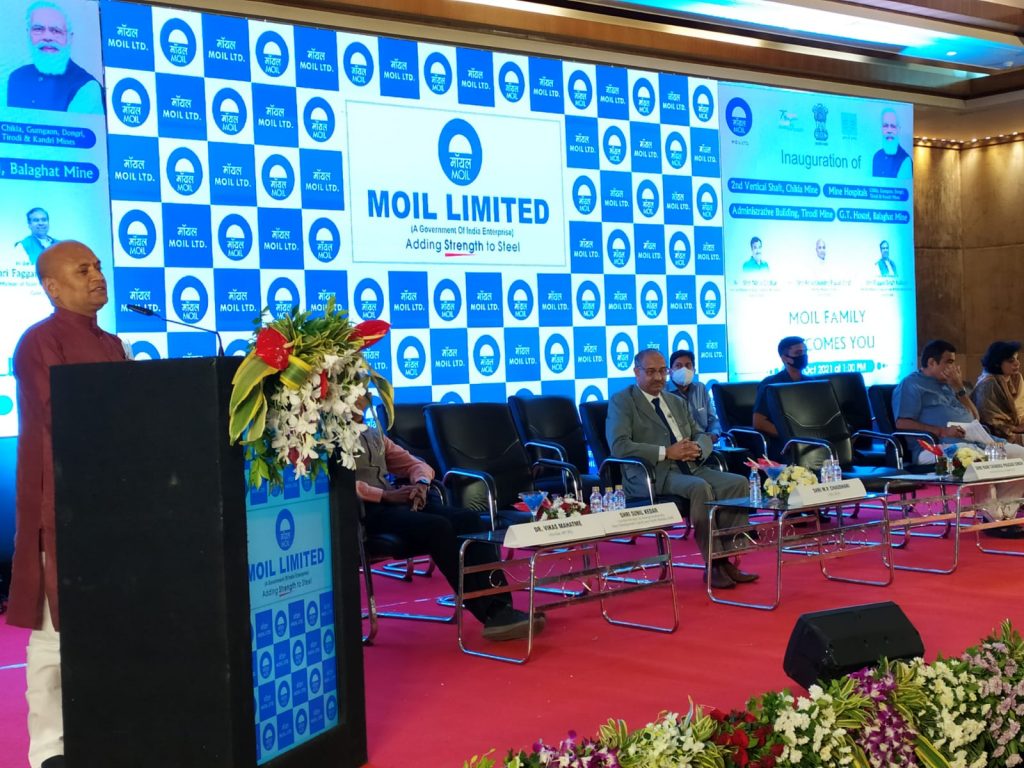 When the minister made both announcements, the union leaders and employees expressed joy by making repeated clappings.
On the occasion, Nitin Gadkari, Union Minister for Surface Transport, and Ram Chandra Prasad Singh dedicated 2nd shaft, Chikla mine to the people and inaugurated online mine hospitals at five mine areas, administrative building of MOIL at Tirodi mine as well as G T Hospital. Faggan Singh Kulaste, Union Minister of State for Steel, participated virtually while Sunil Kedar, Minister for Animal Husbandry, MP Dr Vikas Mahatme, Sukruti Likhi, Addl Financial Secretary, and Ruchika Chaudhari-Goyal, Addl Secretary, and Mukund chaudhari, CMD, MOIL, were among those who were seated on the dais.
The wage revision is for ten years wef 1-8-2017 up to 31-7-2027 benefitting close to 5800 employees. The propsal includes fitness benefit of 20 per cent and perks/allowances at the rate of 20 per cent. An interim relief @ 12 per cent of Basic and DA was given by the company wef May 2019. The toal financial impact of the proposed wage revision will be about Rs 87 crore per year.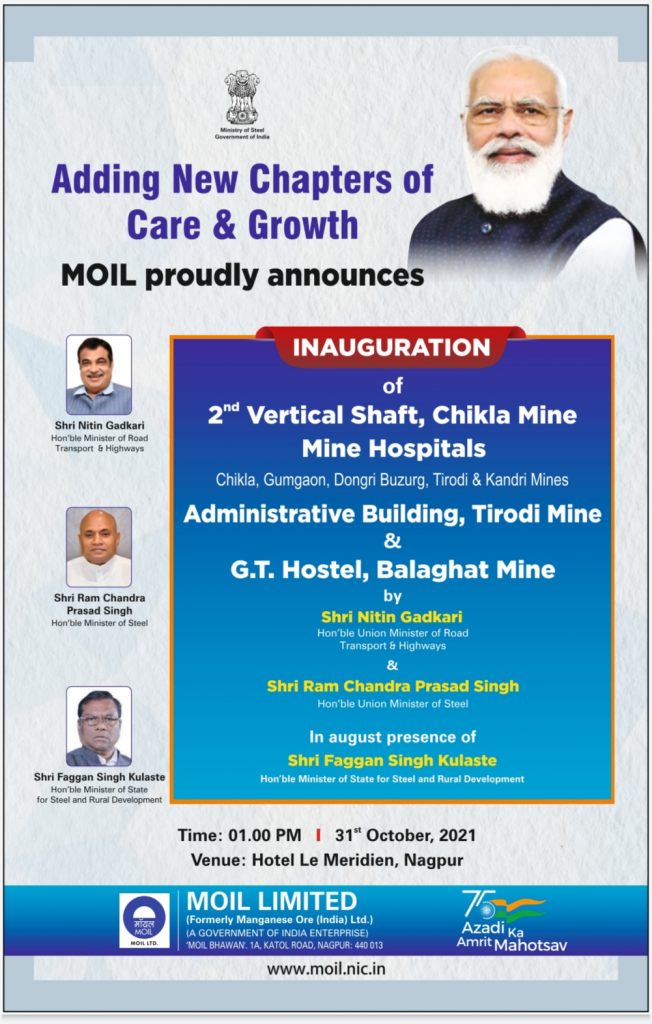 In addition, the production linked bonus for all employees @ Rs 28,000/- for the year 2020-21 which will be paid before Diwali.
In his address, Gadkari said that the totak requirement for manganese is 55 lakh MT while we import 30 lakh MT. The production ofMOIL is 11/12 lakh MT while the government has set a target for 14 lakh MT. He asked to increase the production rate so as to reduce import if the mineral.
We have to become self-reliant in this sector hence asked workers to discharge their responsibilities. The perfornance audit is more important than financial audit, he expressed.
Keadar wanted that the work of verticle shaft at Gumgaon mine be started to increase the production. He also drew attention of the management towards grievances if the workers.
CMD Chaudhari made welcome address and gave account of the company's activities. Usha Singh oroposed a vote of thanks.