SUTRAA Lifestyle Exhibition was inaugurated on Saturday at the hands of Mrs India-Elegance Apsara 2019-Nagpur – Neelam Bowade, Dr Kiran Vemuri, Medical Insurance Data Specialist – Dubai, and Dr Preeti
Sangani, Blood Transfusion Officer – Mumbai.
Dr Purnima, Pathology Professor in GMC-Nagpur, Dr
Rajeshree Patil, Dermatologist -Pune, Dr Sonal Jain,
Ophthalmologist – Mumbai with Ekta Khandar were also present on the occasion. Sutraa Lifestyle Exhibition is being organised by Umesh and Monika Madhyan and
the expo is showcasing a range of lifestyle products from all over the country for its shoppers.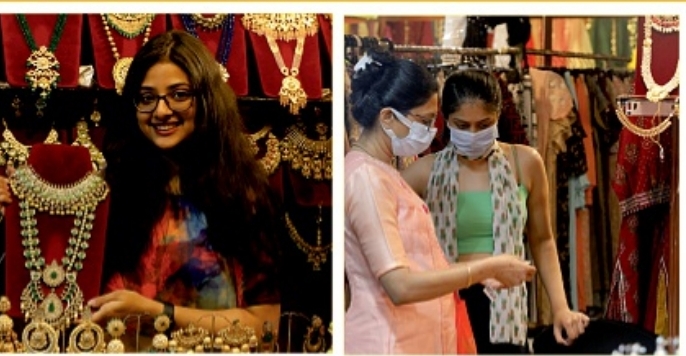 Sutraa is a lifestyle trendsetter– and a showcase for the latest and hottest products and serv- ices on the market. "Reflecting this role, our Lifestyle Expo will
spotlight a variety of stylish products of high quality and modern design of finest in global and India's fashion, beauty and lifestyle products. It is a one stop
solution to all your festive requirements as we brought you flawless trendy products ranging from exclusive collections of wedding wear, stilettos, bridal clutches, bridal jewellery, home deor, accessories, scarves and
much more at the biggest, grandest, finest and unparalleled, fashion, jewels, lifestyle exhibition,"
said the organisers.
AS every fashionista want to receive a lot of attention, clearly, she want to be remembered by the guests for her stunning taste of jewellery and outfit.
Fortunately in Sutraa a woman can find everything which she need to add charm to her beauty without skipping anything ranging from couture to Indo-Western wear by – Saanvi by Shraddha Agarwal, WAFE, casu-
al wear to occasional wear by -Reins, Cherriscope Lifestyle, Khushi Selections, The Creative Hub, Khalista by Kritika Khurana, hair accessories to handbags – Rishabh Collection, footwear to silver jewellery to imitation, sarees – Colours Fab, Usman Zariwala and much more.