"A good heart is a beautiful home where you can always find peace" So let's keep it healthy. On 29th
September 2022 i.e., WORLD HEART DAY, Care hospital in collaboration with the PEACE foundation
organized a Rally at Yashwant Stadium to spread the awareness about preventing heart attack and
healthy lifestyle for the general public. The purpose of this foundation is to spread values and ethics in
the society and acquire knowledge through continuous learning.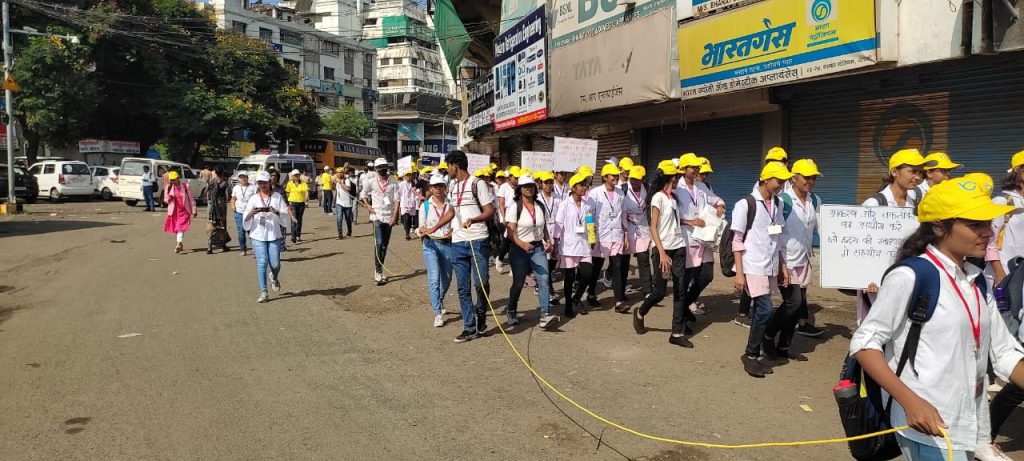 Dr Nilesh Palawe, ACP, Nagpur, was the chief guest and he flagged off the event Students from Delhi
Public School, Jain International, G.H. Raisoni Vidyaniketan, ST. Xavier, Guru Gobind School, School
of Scholars, G.H. Raisoni Public School, Mararshi Kurve Nursing College accompanied the rally, Care
Hospital Staff also participated in the event and volunteers began to arrange them according to their
sequence and managed the event.
Dr. Monika Jain, Head of Department – BCCA motivated and guided the students for active participation in the rally. Around 50 students from the BCCA department, DAIMSR, participated in the rally as volunteers. The organizing committee gave instructions to these volunteers regarding the sequence of the event. The event started at 9:15 am with a band performed by the students of Delhi Public School followed by a skit performed by the PEACE foundation.
The rally began around 9:30 am. The rally started from Yashwant stadium, it then reached the following places Munje square, Jhansi Rani Square, Panchsheel Square and then finished at Yashwant stadium at 10 am. Later some healthy refreshments were given to the students.
Dr. Sudhir Fulzele, Director, DAIMSR, Dr. Nirzar Kulkarni, Associate Director, DAIMSR, Dr. Mujahid Siddhiqui, Deputy Director, DAIMSR, Dr. Monika Jain, Head – BCCA appreciated the efforts of the students and active participation of the students. The students of DAIMSR did a tremendous job throughout the event by contributing their time and efforts for a social cause through this rally and made the event a big success.