Sony SAB launched the biggest family entertainer, Alibaba Dastaan-e-Kabul two months ago and the audience has been loving the show for its fascinating storyline and stellar cast.
However, the appreciation doesn't stop here. The fans have loved the costumes in the show and how it resonates so well with each character.
When it comes to the overall look, costume and make up, Alibaba Dastaan-e-Kabul's SimSim aka Sayantani Ghosh's appearance is winning accolades. Her look consists of highlighted blue hair, blue eyes and a beautiful long blue dress.
An exclusive conversation with television's first SimSim, Sayatani Ghosh reveals details about her look and its significance.
Talking about how SimSim's look came into being, Sayantani said, "Our creative team and stylist had decided that SimSim's look in the show should be given a colour theme. SimSim is the queen of a cave and lives in a dark and cold environment.
She is deeply in love with Iblis and she is trying everything in her power to bring him back to life.
Hence the world of SimSim is very dark and cold. For this reason, the look involves colder colours like blue, dark blue and silver.
Her partner Iblis's still body and his clothes are also black that is why we use more silver jewelry and not gold. We've also seen snowfall in SimSim's cave, so there's a lot of play with white, silver, and blue."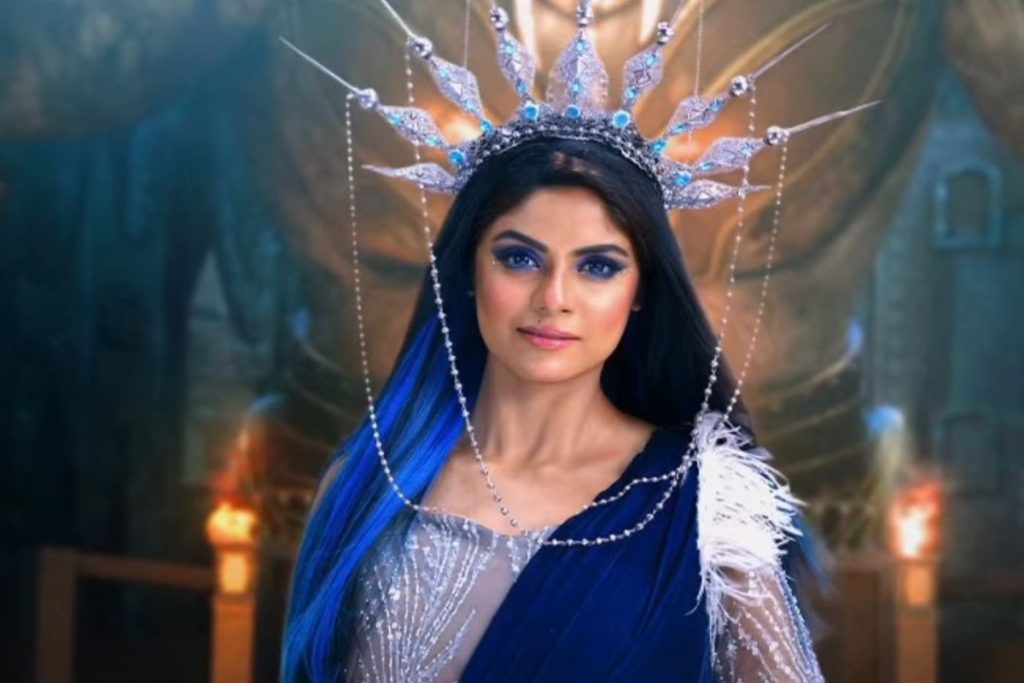 Elaborating this further, Sayatani says, "SimSim is very fluid and is mostly moving around in the air. Even in the graphics we've seen water like elements emerging during her magic or when she is flying. So, to showcase that fluidity the colour blue works very well."
Talking about her accessories, "SimSim's signature element is her 'mukut'. Without the 'mukut' and fingernails, which I call ice-cream cones, the look remains incomplete. We've observed in
Indian television that whenever a costume drama is being portrayed, the characters are heavily adorned with clothes and jewelry. The unique thing about SimSim's look is that the makers have tried to keep the appearance slightly westernized with only two pieces of accessories.
Apart from the 'mukut' and fingernails, my neck and ears are bare, and the look is completed with blue subtle makeup."
"When I initially started shooting, we did think if the look would look too bare on screen. But when we saw the first episode, the overall appearance really gave out SimSim's character description. It portrays her coldness.
To summarize the entire look, less is more in SimSim's world", concluded Sayantani Ghosh.
Apart from being on a harness all day long and devoting 2 hours for the makeup and costume every day, there are times when Sayantani shoots without the company of any co-stars for hours in SimSim's cave, which can be a lonely process.
However, for Sayantani all these emotional and physical challenges are worth it given the incredible work of the entire crew!
To know more about SimSim's journey, keep watching Alibaba Dastaan-e-Kabulat 8 pm, Monday to Saturday only on Sony SAB!