When Karan Johar announced his decision to stop using Twitter, his fans were taken aback. In his final tweet on Monday, the director stated that he made this choice to "make space for more positive energies.
"His final tweet on Twitter stated "Making space for more positive energies only and this is step one towards that. Goodbye Twitter!"
For his seventh season of the talk show "Koffee with Karan," Karan Johar has recently taken a lot of heat. The director received abuse for frequently mentioning Alia Bhatt in his episodes.
If there was a drinking game where we had to take a shot every time Karan mentioned Alia's name, we would be inebriated by the end of the show, a twitter user had said.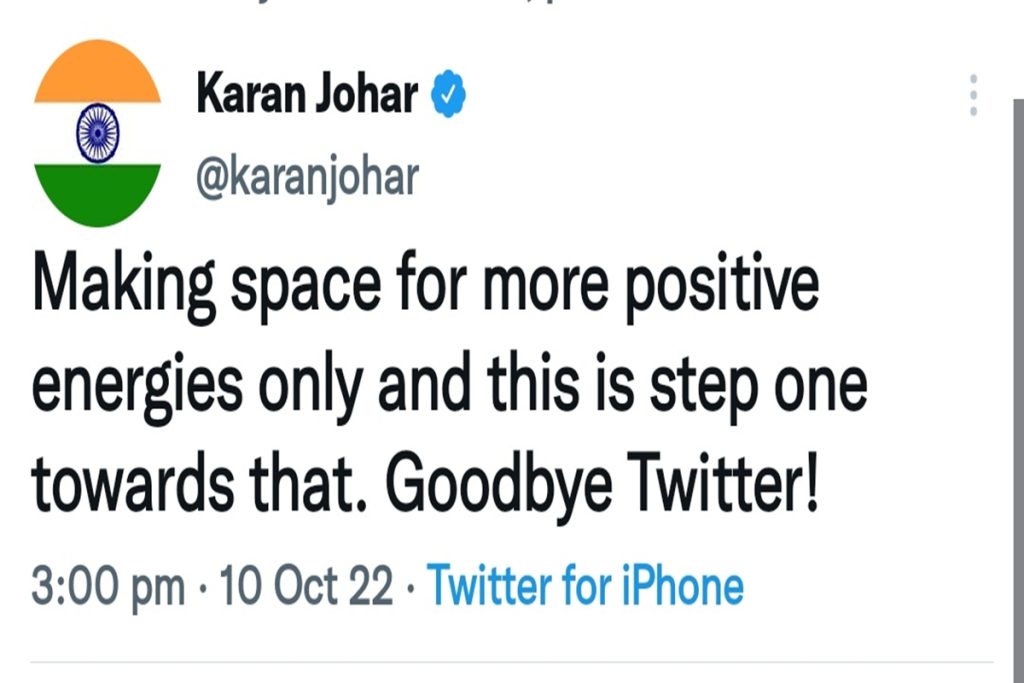 The director had tweeted in response to the troll, "Please don't be upset about that! I recommend using that name, my friend! Try it out! I hope it works out for you as well as it did for me! #koffeequotetweet #aliaforever
On the professional front, Karan Johar is rejoicing over the success of his most recent production, "Brahmastra."
The sci-fi drama starring Ranbir Kapoor and Alia Bhatt earned Rs 199 crore nett at the box office. The second act of the movie is already in production under the direction of Ayan Mukerji.
In addition, KJo is getting ready for the release of his film, "Rocky Aur Rani Ki Prem Kahani," in which the lead actors are Ranveer Singh and Alia, with supporting roles played by Dharmendra, Jaya Bachchan, and Shabana Azmi.