Sony India announces upgrade of its service center in Nagpur to Alpha Camera Body repair center to provide best-in-class customer service for camera body and lenses.
With upgrade of this Alpha Service Center in Nagpur, Sony has now expanded its footprintacross 17 cities in India includingChennai, Mumbai, Delhi, Chandigarh, Calicut, Cochin, Vijayawada, Coimbatore, Jaipur, Pune, Hyderabad, Ahmedabad, Trivandrum, Indore, Bhubaneshwar and Guwahati.
Vishal Mathur, National Head of Customer Service at Sony India, said, "We have always strived to deliver the best services to our customers andthis has led us to widen our service network across India.This expansion for Alpha Camera body and lens repairs facilities is a testament to the brand's continued dedication to customer satisfaction".
Sony India now has the widest service network of after sales support for Digital Imaging products with 8 service centers for lens repairs, 19 service centers for Alpha Camera Body repair, 40+ service centers which can offer basic services like CCD Imager cleaning and firmware updates and 220+ collection centers pan India.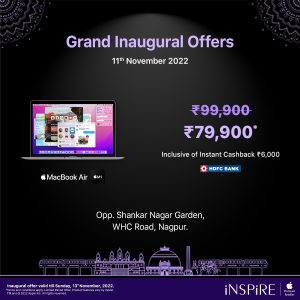 Mukesh Srivastava, Head of Digital Imaging Business at Sony India,said, "By supporting and assisting partners in local markets, Sony aims to ensure customers receive exceptional service and satisfaction along with quicker and faster turnaround at all outlets across the country.
The new service centers will offer customers a seamless experience across multiple touch-points to provide a consistent brand experience that surpasses expectations."