In a bid to interconnect & charge two newly built ESR's at Dabha under AMRUT scheme, Wapcos has requested for a 12 hours shutdown of Dabha feeder line (Dharampeth zone) on December 5 from 10 am to 10 pm. During the same day Nagpur Municipal Corporation and OCW, continuing its annual ESR cleaning drive, planned to clean Bhandewadi ESR (Lakadganj zone).
Following 12-hours Dabha shutdown water supply Dabha & Tekdiwadi ESR's will remain affected while at Lakadganj Zone -water supply in Bhandewadi ESR areas will remain affected.
On Monday, 5th Dec 2022:
Dabha ESR ::– Hazari pahad, Gayatri Nagar, Saroj Nagar, Manohar vihar colony, Asha Balwadi, Chintamani Nagar, Bhivsen Khori, Goutam Nagar , Ganga Nagar, Jagdish Nagar, Makardhokda, Woodland society, Govt Press society, Gurudatta Colony, Ganesh Nagar ,Thakre layout,  Dabha basti,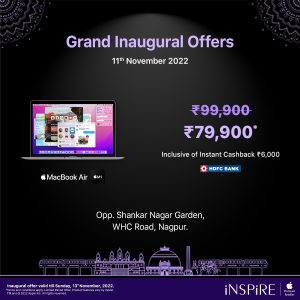 Tekdi Wadi ESR: Sai Nagar, Dobi Nagar, Gurudatta Society, Jai Mangalmurti Society, Lokmanya Nagar, Sai Purna Society, Deshmukh Layout, Jai Hind Society, Bhakre Layout, Chikli society. Amita society, Prashant society, Vaishnomata Nagar, Vaibhav Nagar, Dandekar layout, Tekdiwadi slum, Talwalkar layout.
Bhandewadi ESR cleaning: Raj Nagar, Prince Society, Annapurna Society, Vaishnodevi Nagar, Khandwani town, Shrawan Nagar, Chandmari nagar, Mahesh nagar, Suraj nagar, Meher Nagar ,Sahil Ngar, Sarju Town ,Himanshu
layout , Aantuji nagar, Abumiya Nagar ,Tulsi Nagar, Pawanshakti nagar, Dhartimaa society,Milan nagar.
Further continuing with scheduled ESR cleaning plan, NMC-OCW has decided to clean Pandey Layout(Khamla) ESR on Tuesday 6th Dec,2022 & Kalamna ESR on Thursday 8th Dec,2022:
The Cleaning of the ESR's (Overhead Water Tank) plays a vital part in supplying good quality potable water to the citizens of Nagpur. Every year NMC-OCW cleans all the Storage tanks within the Nagpur Municipal limits. Due to Tank cleaning the water supply in the following areas of the 2 Command areas will get adversely affected:
Pandey Layout (Khamla) ESR on Tuesday 6th Dec,2022: Pandey Layout, Sneh Nagar, Malviya Nagar, Tapovan Complex, Jaiprakash Nagar, Central Excise Colony, Chattrapati Nagar, Doctor Colony, Panchdeep Nagar, Mehar Baba Colony, Pavanbhumi, Savitri Vihar, Paryavaran Nagar, Cosmopolitan Society, Ujjwal Nagar, Kurve Nagar, Rajiv Nagar, Wardha Road, Rahul Nagar, Somalawada, Pioneer Society, Engineer Society, Bante Layout, Sita Nagar.
Kalamna ESR on Thursday 8th Dec,2022: Punjaram wadi, Sakarkar wadi, Bajar Chowk, Vairagade wadi, Khapre Mohalla, Kumbhar Pura, Sanjay Nagar, Dipty Signal, Gopal Nagar, Chikhali Basti ,Adavasi Prakash Nagar, chikhali layout.
During the period of Dabha & Bhandewadi, Khamla & Kalamana ESR shutdown there will not be any water supply in these areas through Tankers also. Hence the citizens residing in these areas are requested to make arrangements for temporary storage well in advance.