Between December 10 and December 13, South Vidarbha may get light showers as a result of the formation of Cyclone Mandous in the Bay of Bengal, while the remainder of Vidarbha is anticipated to experience gloomy weather.
The building of a cyclone is generating moisture intrusion throughout Vidarbha, Central India, and Tamil Nadu, according to the Indian Meteorological Department (IMD).
As a result, Tamil Nadu might expect heavy rain, while some areas of Vidarbha and Central India may get mild rains.
In Nagpur, where the lowest temperature has been rising over the past three to four days, the minimum temperature could range from 16 to 18 degrees Celsius from December 10 to 13.
December 10 to 13. "Bramhapuri and Gadchiroli are likely to receive light rains due to the cyclonic circulation in coming days. IMD is monitoring the development of the cyclone and if the diameter of the cyclone increases further, then light rains may take place in Nagpur also," said a meteorologist to 'The Hitavada'.
Normally, this cyclonic formation takes place in the month of January or February, but this year, it is taking shape in December, which is early this time.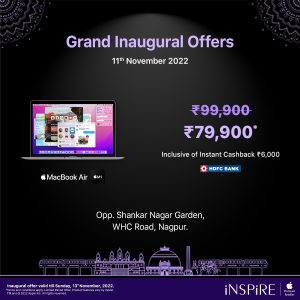 After this type of cyclonic activities, normally hailstorm takes place, but due to early formation, the chances of hailstorm may reduce, said the scientist.
On Wednesday, the minimum temperature of Nagpur was 16.7 degrees Celsius, which was 3.4 degrees above normal. Akola recorded the highest minimum temperature with 17.9 degrees Celsius followed by Yavatmal (17.0 degrees Celsius), Buldhana (16.8 degrees Celsius), Wardha (16.8 degrees Celsius), Chandrapur (16.6 degrees Celsius), Amravati (16.1 degrees Celsius), Bramhapuri (16.0 degrees Celsius).
Gadchiroli recorded the lowest minimum temperature in Vidarbha with 12.6 degrees Celsius on
Wednesday followed by Gondia (13.2 degrees Celsius) and Washim (14.2 degrees Celsius).
Despite increasing minimum temperature in last 3-4 days, the maximum temperature all over Vidarbha
took a dip on Wednesday.
Chandrapur and Gondia recorded the lowest maximum temperature with 26.8 degrees Celsius in Vidarbha on Wednesday. It was 3.5 degrees Celsius below normal for Chandrapur and 2.3 degrees below normal for Gondia. Nagpur was third in the list with 27.9 degrees Celsius which was 1.5 degrees below normal.
Amravati (29.6 degrees Celsius), Buldhana (29.2 degrees Celsius), Bramhapuri (28.5 degrees Celsius), Gadchiroli (29.0 degrees Celsius), Wardha (29.0 degrees Celsius) and Yavatmal (28.0 degrees Celsius) recorded the maximum temperature below 28 degrees mark. Akola recorded the highest maximum temperature on Wednesday with 30.5 degrees Celsius.