Scania introduced a new range of tailor-made trucks to aide transport solutions in the Mining, Construction and Long Haulage Business in Nagpur, Maharashtra
Scania believes, Indian customers deserve the best of the global technology and will continue to offer undiluted, best in class mobility solutions with the highest levels of performance, safety and minimized environmental impact.
After a successful national launch of NTG range in Bangalore, earlier this year, Scania India is reaching out to the regional markets and to its first level users such as site managers, engineers, fleet operators, drivers and mechanics, to showcase the benefits and value these trucks can add in their daily operations.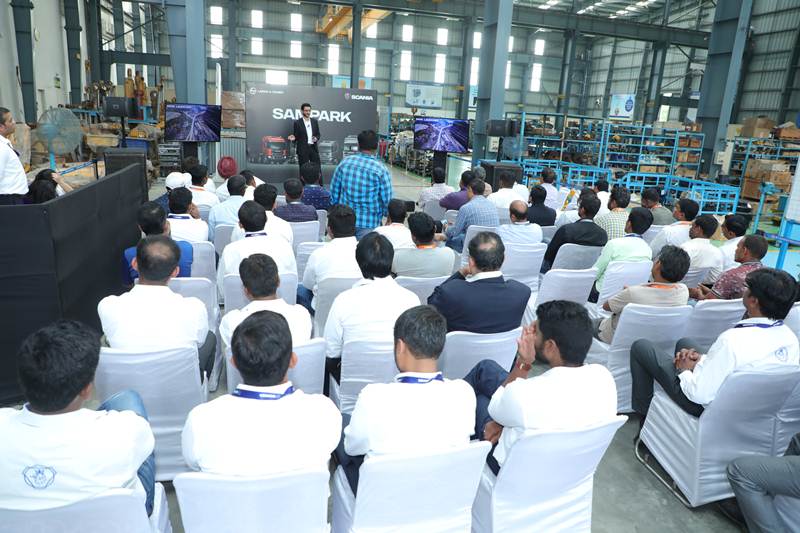 Furthering its commitment to the Indian market Scania introduced its New Truck Generation (NTG) in Karimnagar, Telangana in an event branded as SAMPARK last month and has now taken the initiative to Nagpur for its central zone customers.
Nagpur, located at the zero-mile center of India, is a critical location for Scania which already has a state-of-the-art Central Parts' Warehouse that caters to Scania's off-road, on-road and engine products. Active coal mining operations and a high density of customers in the vicinity make Nagpur an attractive and viable location for an event of this nature. This edition of SAMPARK saw the full participation of representatives from organizations operating in the region. With an overwhelming response, Scania plans for more SAMPARK events at regular intervals in pre-defined locations with a high density of trucking operations.
Speaking on the occasion, Petr Novotny, Managing Director, Scania India said, "After the success of SAMPARK in Karimnagar, we turned to Nagpur and the Central zone in a bid to take the best in class Scania products and services to those on the field across the country. Our customer centric approach and tailored solutions for Indian markets are designed to support those who work closely with the product making it imperative for us to engage with them directly. Post the introduction of the NTG range here we aim to reach out to our customers in the East, North and  West zones as well. We are looking to evolve India's transport solutions in the mining, construction and long haulage business and our commitment always remains to provide the best trucks and solutions with highest productivity, reliability and safety standards to the customers."
As India moves closer to the implementation of BSVI, NTG which is BSVI ready integrated with an upgraded powertrain, resulting in higher load carrying capacity, fuel efficiency, and uptime. This New Truck Generation comes with features and benefits which include – Higher load carrying capacity, better uptime, more durable and last but not the least high levels of safety and Driver comfort, all integral to optimize efficiency on-sites.
Scania has adapted various service plans to fit the customer's operational needs like Site Optimization, Uptime improvement, Repairs, and Proactive Maintenance to offer end-to-end solutions. Globally, Scania works towards developing greater levels of sustainability, focusing on energy efficiency,
alternative fuels and electrification, and smart and safe transport, utilizing increasing levels of digital services to provide higher uptime and vehicle utilization.