Manganese Ore India Limited (MOIL) is the largest producer of manganese ore in the country. It is a miniratna state-owned manganese-ore mining company headquartered in Nagpur, India.
MOIL Limited has been ranked 486 among the 500 top companies in India and 9th in the Mines and Metals Sector of the Fortune India 500 list for 2011.
MOIL operates 10 mines, six located in Nagpur and Bhandara districts of Maharashtra and four in the Balaghat district of Madhya Pradesh. Of the 10, seven are underground mines (Kandri, Munsar, Beldongri, Gumgaon, Chikla, Balaghat and Ukwa mines) and three are opencast mines (Dongri Buzurg, Sitapatore, and Tirodi). Its Balaghat mine is the deepest underground manganese mine in Asia.
Recently, in a candid conversation with The Live Nagpur the Chairman cum Managing Director of MOIL. Ltd, Mukund Chaudhari talks about the different aspects of the MOIL.
A chartered Accountant by profession, Chaudhari joined MOIL in August 2012 as Director (Finance) and was later elevated as CMD.
As a leader of manganese ore production in India, what are the major growth strategies of MOIL?
In order to maintain its share in domestic production, MOIL has to take its production from the present level of around 1.40 million MT to 2.50 million MT by 2025-26 and to 3.00 million MT by 2030, which is in line with the expected increase in steel production and, consequently, demand of ferro alloys. For achieving the above, it is essential to (a) increase hoisting capacity of underground mines, (b) increase evacuation capacity of opencast mines, (c) increase underground and open cast development, (d) increase operational efficiency, (e) carry out deepening of existing vertical shafts, (f) sink new underground vertical shafts, (g) opening up new mines, (h) aggressive exploration of areas to locate ore reserves and (i) creating infrastructure to increase ore dispatch capacity.
MOIL has already taken steps in this direction. Increase in hoisting capacity has been completed at Balaghatand Chikla mines. Development of alternate routes has been completed in Dongri Buzurg mine – the largest open cast mine of MOIL – so as to increase evacuation capacity of waste rock as well as ore. Open cast and underground development targets have been increased in tune with requirements of increase in production and the same are progressing as per set plans. Shaft deepening at Balaghat, Chikla and Kandri mines has been completed. New shaft sinking has been completed in Chikla. Shaft sinking works are in progress at Munsar and Ukwa mines and commissioning is planned for 2020-21.  Besides these, work orders for sinking of two new high-speed shafts have already been issued for Balaghat and Gumgaon mines and work is progressing in these mines. These big shafts – planned for doubling the existing capacity of these mines – are scheduled for commissioning in 2021-22. Proposal for putting up vertical shaft at Dongri Buzurg mine is being explored. New mine at Parsoda, where the company has got approx. 50 Ha lease, is already opened in March, 2019. MOIL has been carrying out extensive exploration activities in its mining areas and generally reserves identified are more than double the annual production every year. Ore evacuation capacity ramp up proposals are also under consideration. All these taken together will enable the company to ramp up its production to desired levels.
What is the vision of the company? What are the major achievements of MOIL?
Vision of the company is to sustain market leadership in Indian manganese industry and be a globally diversified enterprise through strategic alliances and technological upgradation. The major achievement of MOIL is that it is still the number one manganese ore producer in the country inspite of having century old and deep mines. MOIL has sustained the domestic turbulences, stiffness and global competition and still being the largest manganese ore producer of the country.It accounts for about 50% of India's manganese ore production. MOIL also operates a 1500 MTPA electrolytic manganese di-oxide (EMD) plant at Dongri Buzurgmine and 12000 MTPA ferromanganese (FeMn) plant at Balaghat mine. It has also installed 20 MW wind turbine generators in Dewas, MadhyaPradesh during 2006-2008 -MOIL is the first PSU in the country to venture into this segment. MOIL has also set up 10.50 MW solar power projects in its mines. MOIL is aprofit making PSU for more than a decade.
What have been some of the biggest challenges to meet growing demand of manganese ore ?
Figures of present production and the production levels, which the company is planning to achieve (indicated above), is one of the biggest challenges. Sinking of new shafts, through which major production increase would come, is a three-four year project; horizontal development to reach up to the point where the ore is located also takes around eighteen months' time, after completion of shaft sinking activities. Deepening of shafts poses a big challenge in maintaining the production and, at the same time, ensuring completion of project in given time. Since hoisting of waste rock and ore transportation is achieved through the same set up, all these activities are to be completed in a safe and secure manner.
Another challenge is the requirement of high-grade ore for ferro alloys making vis a vis medium-low grade ore reserves available in the country. This necessitates beneficiation of ore. Mechanisation of these operations (which is done by MOIL at its Balaghat and DongriBuzurg mine) requires larger volumes, which is not available at some of the mines of the company. Present mining legislation does not permit taking out raw ore from mine premises to other locations for centralized beneficiation. Hence,dependence on manual processes, which have inherent limitations, increases. This, in turn, reduces operating efficiency and cost competitiveness of the company.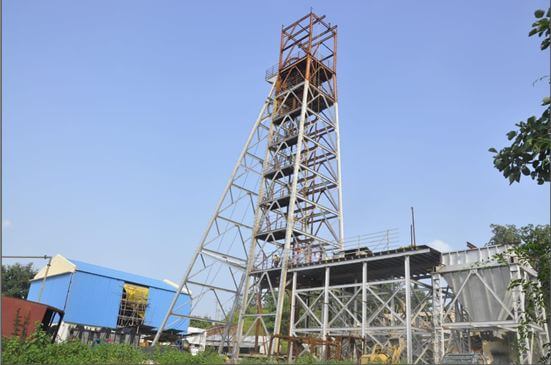 What are long-term innovation plans to thrive smartly in the future ?
Increasing hoisting/evacuation capacity in existing underground and opencast mines, modernization and mechanization of mines – to the extent permissible and viable, mineral beneficiation, increasing proportion of high-grade manganese ore in total output, increasing di-oxide grade production, production of EMD suitable for e-vehicle industry are some of the matters which are a part of MOIL's innovation plans. 
Which are the Key CSR projects of MOIL and which one you consider the flagship project of MOIL?
The CSR projects of MOIL cover almost every aspect of community development as far as possible. As you are aware, MOIL's operations are located in remote and backward regions and the company has long back realized the need to improve the quality of lifeof the rural community in the peripheral areas of its mines and towards this direction, the company has been continuously carrying out welfare activities for the last several years.
To further strengthen the rural welfare activities, MOIL has taken up the inclusive rural development program. In this direction, the company has formed a registered society namely MOIL Foundation which, in association with BAIF, Pune and MITTRA, has taken up a massive rural development program in 21 villages in Nagpur, Bhandara and Balaghat districts. This is one of the flagship CSR projects of MOIL, which broadly covers agricultural development, livestock development, health and sanitation, education, self-help groups, etc. There has been an overwhelming response and support from the local community and has given an excellent positive impact. After the first phase, MOIL is planning to take this forward to other villages on a continuous basis.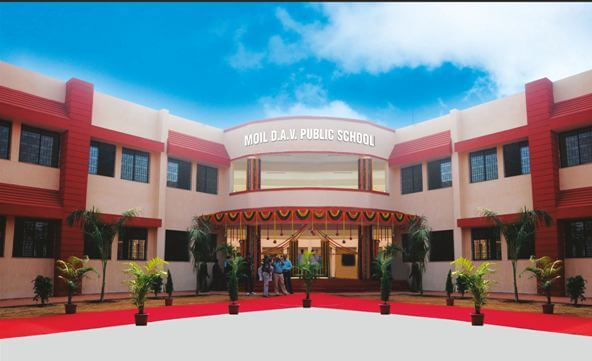 In a major step towards providing quality education to rural children, MOIL has constructed a large school at village Sitasaongi in Bhandara district and is operating it in association with DAV group of schools from academic session April 2014 onwards. The school caters to the educational needs of a number of villages in this remote backward area. The school has modern educational facilities with 35 classrooms, scientific laboratories, library etc. The school is managed by DAV Management and funded by MOIL. Presently, the strength of the school is more than 1000 students from nursery to class X. Academic record of the school is excellent. Enthused by the response, MOIL is also putting up another such school near its Munsar mine in Nagpur district and is also planning a similar initiative in Ukwa mine in Balaghat district.
How has MOIL contributed to India's growth in last 5 years?
MOIL's performance- As mentioned above, MOIL has been a profit making PSU since years and also it has been the largest manganese ore producer of the country. It caters around 50% of the country's need. MOIL has contributed to various flagship programs of governments 
Skill Development- MOIL has adopted skill development initiative through its Recognized Learning Program (RPL) for its regular employee's contractual workers and local youth from past 5 years. More than 1600+ employees, 600+ contractual workers and more 500+ local youth trained under the skill development initiatives.
SwacchhBharat: MOIL has been contributing in Swacchh Bharat initiatives by cleaning its nearby vicinities, by initiating plogging drives in Nagpur city, constructing bio-toilets and also contributed towards domestic waste management projects. MOIL has spent approximately Rs. 1.05 crores towards Swacchh Bharat programs.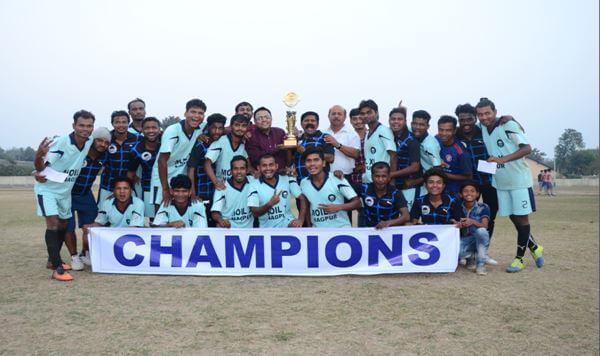 Digitization: MOIL is going digital big way. It has implemented ERP-SAP solution across all its departments for transparency and moving away from compartmentalized style of working. The solution helps in giving broader perspective to the top management. In addition to this, MOIL is adopting Smart Office concept by moving away from the traditional style of paper work to paperless office. Payments to various vendors are done through gateway payments and many such e-banking solutions have been implemented.
Sports: MOIL has been in sports activities since ages for its employees, dependents and few locals. MOIL has been specially promoting Football, Cricket, Badminton and Hockey in the region. MOIL spent around 50 lakhs per annum for inter mines competitions for its employees and dependents and by helping few associations towards building budding players.