Asif Sheikh, a resident of Gittikhadan, has designed an automatic sanitizer cabin to prevent the spread of coronavirus in the city. Sheikh has his own fabricating factory where he built the machine.
He informed that the virus has spread as fear in society and going out in public places is a threat to life.  Asif has prepared this cabin in five days by arranging the necessary things for the cabin, despite the market being closed due to lockdown.
This cabin has been designed in such a way that as soon as a person enters it, the sanitizer will come out of the cabin walls and sanitize them. The special thing is that this machine can sanitize 500 people and can be run for two hours with 20 liters of sanitizer.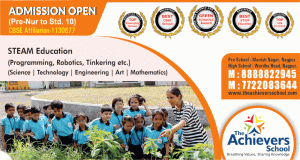 Sheikh further informed that the machine is needed in the crowded places that he wants to donate this machine to the Office of the District Collector as a present. He aims to build more of such machines if further needed.
Similarly, a sanitizing machine has been installed by Joginagar-Bhimnagar Mitra Mandal and Services at Gully No-5 and also public hand wash center has been set up for the locals of the area.