At present, Ekadashi Pandharpur has blossomed with Warakaris. In fact, after the month of Ashadh, Warakaris look forward to meeting Vithuraya of Pandhari. In the wake of Mauli Mauli, everyone is participating in this Wari and visiting Vithuraya.
Famous actor Swapnil Joshi also completed his dream of many years by walking to Pandharpur.
Swapnil Joshi is immersed in the devotion of Vithu Mauli after experiencing Pai Wari. After traveling on foot from Wakhri to Pandharpur, Swapnil shared a post about his experience.My grandmother used to say, "Everyone should do this journey to Wari at least once …" and today I realized why she said on that.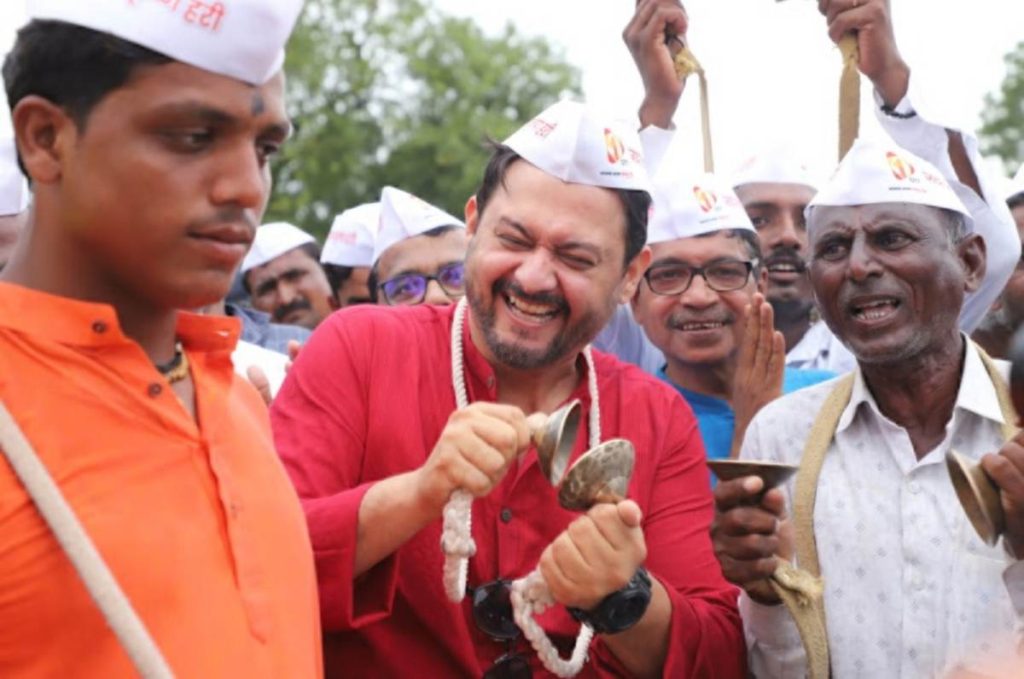 Swapnil narrated his experience by meeting the Warakaris yesterday, walking with them, playing, dancing, wearing balloons, chanting Mauli and saying that he did not know when he came to the temple.
Swapnil said, we Although he is the hero in the picture, the real hero is Warkari. Forgetting thirst and hunger year after year, Warkari walk on foot. The feet get swollen, but the swelling go away forever with blessed with their blessings.
Narendra Firodiya, Vinayak Satpute, Vinayak Srinivasan of 1 OTT and other members our team are doing food donation, seating, water supply, letter shed, Lost and Found stalls. Glad to see that.
Swapnil also said that he got a different experience and was happy to be able to serve the society while entertaining.
1 OTT is India's own mobile OTT, started jointly by Swapnil Joshi and eminent industrialist and philanthropist Narendra Firodia. In January last, the logo of the 1st OTT was unveiled by Maharashtra Governor Bhagat Singh Koshyari.
1 OTT is an OTT (Over the Top) platform that will feature programs in all major languages of India. With that, it is literally coming to be known as its India Ka Apna Mobile TV. It will be the OTT of India in the true sense of the word and will feature films and series in Hindi, Marathi, Bengali and other regional languages.
Apart from Firodia and Joshi, Vinayak Satpute, a founding member of DTL Activation, Vinayak Srinivasan, Rajiv Jani, eminent banker Satish Utekar and Chetan Maniar, a leading personality in the field of entertainment, have also been instrumental in establishing "1 OTT".
1 OTT has entered into an agreement with Whistling Woods International (WWI), a film, liaison and creative arts training organization, to showcase films made by WWI students over the years. The announcement was made recently by Subhash Ghai, Founder-President of (WWI), and Narendra Firodia and Swapnil Joshi of "1 OTT". As part of its social responsibility along with entertainment, "1 OTT" signed a cooperation agreement with Padega Bharat as well.