Nagpur Smart City has hired three robots to clean and maintain manholes in the city so that sanitation workers can clean them safely without entering the manholes of sewer lines.
Municipal Commissioner and Administrator Shri. Radhakrishnan B, Nagpur Smart City CEO Shri. Chinmoy Gotmare observed the cleaning done by the robot on Monday.
The Board of Directors of Nagpur Smart City had decided to lease the state of the art robot machine. This robot machine will help to relieve the problem of cleaning workers in Nagpur city.
This initiative is aligned with the vision of Nagpur Smart City to bring more safety in the maintenance of manholes in the city using advanced technology.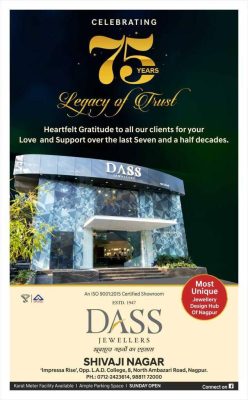 Chief Executive Officer of Nagpur Smart City Shri. Chinmoy Gotmare said that currently manual scavenging has been banned under the Manual Scavenging Act 2013.
Nagpur Municipal Corporation has 10 jetting machines and 4 suction machines. It helps in cleaning the sewer chamber on major roads. But it becomes difficult to do this on small roads. Robot cleaning system will help to solve this problem.
A camera and a hand to the robot
The said electric robot, adopted for the cleaning and maintenance of manholes in the city, has a camera and mechanical arms.
The robot can clean manholes at a depth of about 10 meters. In Swachh Bharat Mission 2.0, the central government has decided to use machines instead of humans to clean manholes. This is a great step of the municipality towards a clean and beautiful Nagpur.
This bandicoot robot has been created by a Kerala start up company and this invention has won an award.