The seventh graduation ceremony of Ajeenkya DY Patil University (ADYPU), Pune was organized on Friday evening.  Dr. Ajeenkya D Y Patil, President, Ajeenkya DY Patil University presided over the ceremony.  Hrridaysh Deshpande, Vice Chancellor at Ajeenkya DY Patil University was present on the occasion. 
Tushar Mehendale, Managing Director of ElectroMech Group, Dr. Pradeep Kurulkar, Director, Research & Development Establishment (Engineers), Pandurang Abaji Raut, Founder, Shrinath Mhaskoba Sugar Factory, Suresh Katta, Founder and CEO of Saama Technologies and Nitin R. Desai, Chairman of Desai Brothers Ltd , Sudhir Mehta , Chairman of Pinnacle Industries were conferred with The Degree of Doctor of Letters Honoris Causa (D.Litt.)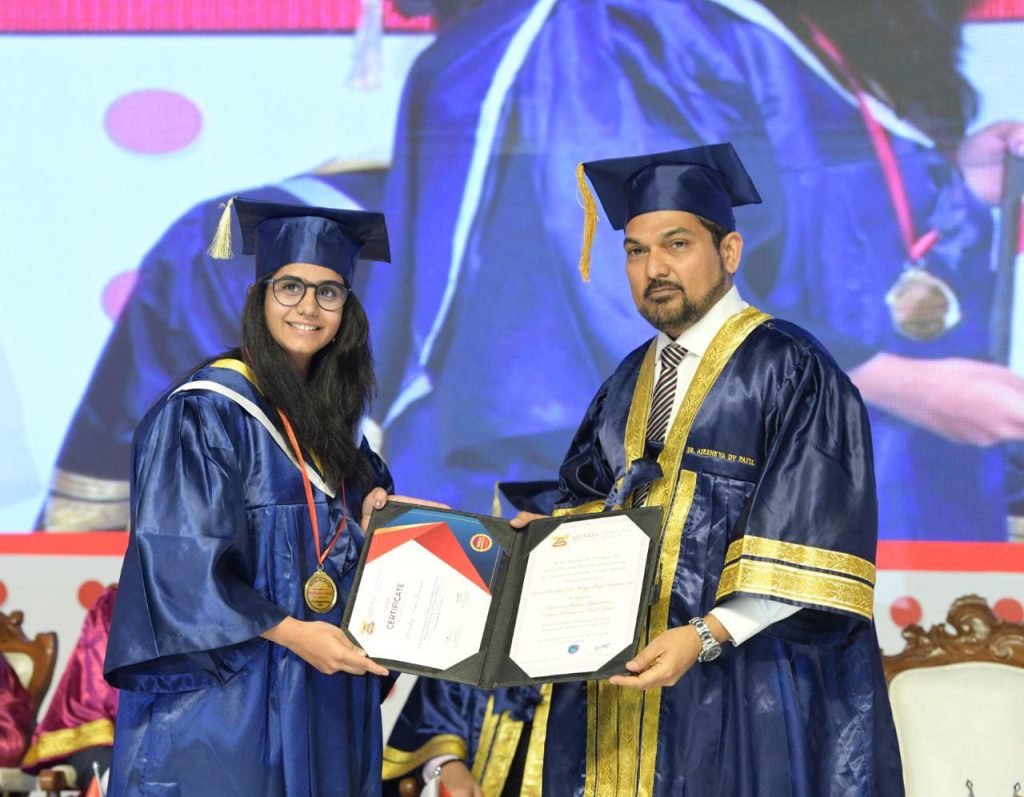 According to Dr. Ajeenkya D. Y. Patil, president of ADYPU, graduates come from unusual times. Their education has gone through two stages. One was during the pandemic, when we couldn't interact with anyone in person and everything was virtual, and the other is now, when things are returning to normal. The students have learned how to deal with uncertainty and have resilience as a result of these difficult times. The students are receiving their diplomas as the human race deals with numerous problems. Our world needs bright young people like you to approach these issues with a new point of view and body of knowledge. People who can think critically and creatively are needed now more than ever to solve problems and innovate. We require team builders, consensus-builders, action-motivators, and leaders. We need people who are driven and compassionate, with the drive to succeed and support the success of others. The key results for success in the modern world are these abilities.
He added that the university education has built a solid foundation for the students to succeed. It has been my personal wish and aspiration to synchronise the Indian Knowledge Systems with the education delivery.
We have initiated the 'Centre of Advanced Indian Studies' in order to derive from the rich Indian knowledge systems in order to respond to our contemporary needs while at the same time absorbing our intellectual traditions. We envisage to situate the teaching and learning in all disciplines, including fundamental sciences and technology, in the Indian context.
Hrridaysh Deshpande, Vice Chancellor, Ajeenkya DY Patil University presented the University report including achievements and activities of the year. He said, the University has already begun a core infrastructure upgrade which includes classrooms, common spaces and the digital library. We completed the extended capacity of our student accommodation. Simultaneously, we've begun redesigning and redeveloping our IT infrastructure to cater and respond to the digital transformation currently underway in all areas: teaching and learning; administration and accounts.
He said that we are committed to implementing the National Education Policy 2020 in its entirety. The National Education Policy emphasizes multi-disciplinary programs. While many of our programs are inherently multi-disciplinary, we introduced Minors this year. Minors are meant to extend to our students the possibility of a specialization besides their chosen major.
Hrridaysh Deshpande added that we have carefully selected and curated the programs to reflect the future of industry and future of jobs. At the core of these initiatives is our proprietary, Hyflex Learning Model. The Hyflex model integrates face-to-face, online learning and on-site learning experiences in service of intended learning objectives. The model actively helps all learners in being curious and creative. It carefully choses experiences for their learning potential so that our students practice and deepen emergent skills, encounter novel and unpredictable situations that support new learning, and learn from mistakes, and successes.
Degrees were awarded to approximately 879 students in 14 master's programmes and 38 bachelor's programmes, including management, design, engineering, law, hotel management, film, and media. 151 students from a variety of courses received Gold, Silver, and Bronze medals for academic excellence at the graduation ceremony.