The work on Traffic Improvement Project at Jai Stambh Square near Ram Jhula is going on in full swing. The proposed fly-over runs parallel to Kingsway for a length and which is split in two parts at landing location – one leg goes to RBI Square and other towards LIC Square. This would make the fly-over a Y-Shaped structure at Kingsway Junction.
Vehicles going to Railway Station and Manas Square will take left turn at the starting point of fly-over i.e. near Ram Jhula. Two spans of the existing structure are being dismantled for providing connectivity to the newly constructed fly-over.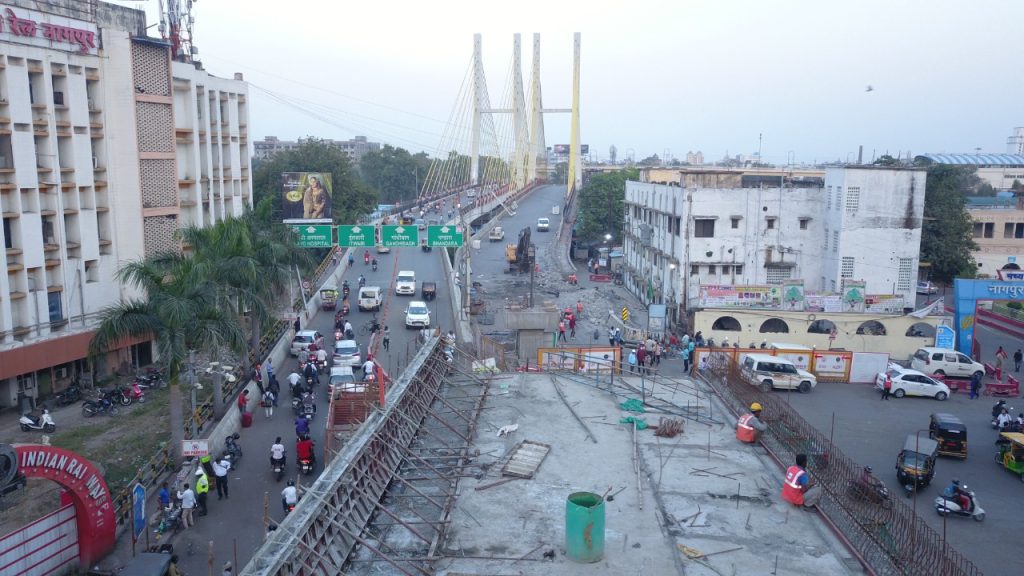 The dismantling of spans is part of the ongoing project work and would facilitate completion of the fly-over. The traffic has been diverted to other section of the road over the Ram Jhula Bridge for the purpose and barricades have been provided to prevent accident.
The total length of the under-construction fly-over is 850 meter. The fly-over would be two-lane way between Ram Jhula and Mohini Square. Similarly, the stretch between Mohini Square and RBI Square & Mohini Square and LIC Square will be single lane path. Those travelling towards Railway Station from Mohini Square, may take left turn. It would be single-lane road.
Work on the fly-over is going on in speed with Girders being erected there. The total fly-over project cost is Rs 50 crore. The proposed project is being executed for Public Works Department (PWD) as deposit work under the Central Road Fund (CRF) scheme.
Once completed, Traffic Improvement Project would decongest the road. Central Avenue, Kingsway, Ram Jhula are some of the most crowded roads of Nagpur and this project would ease the traffic flow to a great extent.